April 7, 2021
The American College of Emergency Physicians (ACEP) has awarded Cooley Dickinson Hospital's Emergency Department a Level 3 Geriatric Emergency Department Accreditation (GEDA).
Cooley Dickinson's Emergency Department is the only hospital in the Pioneer Valley and one of only 3 hospitals in Massachusetts to earn the Level 3 accreditation, according to ACEP.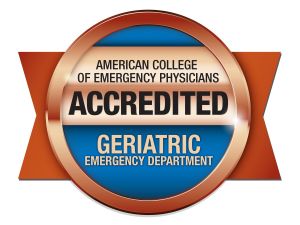 "This is an auspicious day for the Cooley Dickinson Emergency Department," says Robert S. Redwood, MD, MPH, FACEP, medical director of the Cooley Dickinson Emergency Department and chief of Emergency Medicine.
"I am proud of the Cooley Dickinson teams across many medical and administrative disciplines that have worked so hard to earn this distinction, and we pledge to live up to this accreditation through continuous quality improvement and enhanced services for older members of our community."
One of the medical specialties that has been critical to earning the GED accreditation is nursing. Emergency Department Registered Nurse Rebecca Bench, BS, RN, CEN, who has a minor in gerontology and completed additional continuing education focused on the care of the geriatric population, says "geriatric accreditation keeps our entire team – nurses, techs, and providers – focused the goal of excellent geriatric care."
The level of accreditation requires that a physician and registered nurse champion demonstrate training in geriatric medicine that both adds to their expertise and gives them the tools to teach their peers how to improve geriatric emergency care.
Unique Needs of Older People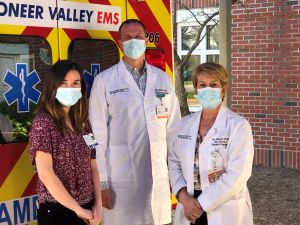 "This is a unique population of people," Redwood says, noting that the special care needs of older adults are not typically aligned with the priorities of how traditional emergency departments are designed and how traditional care in emergency departments is rendered.
Cooley Dickinson has the clinicians, services and resources in place for any older adult who comes to the Emergency Department for care. "This is about someone having access to a physician who specializes in geriatric medicine as well as nurses, case managers, physical and occupational therapists and other clinicians who are trained in the specific needs of older adults," he adds.
"We can screen for dementia and delirium and provide an environment in the Emergency Department that is appropriate for seniors, including age-friendly lighting and 'round-the-clock access to nutrition. We also have interventions that can help mitigate falls and protect seniors' skin," Redwood adds.
"As nurses," Bench notes, "we focus on the Institute of Healthcare Improvement 4M's Framework of Age-Friendly Health Systems.  We focus on what matters to our individual geriatric patients.  We provide an environment of safety and the tools needed to assist in mobility.  We assess mentation, so we can understand and begin treating any cognitive changes.  And finally, we take great care with the many medications that might be prescribed to our patients.
Geriatrician Rebecca Starr, MD, says the GEDA accreditation is tangible evidence of the great steps that Cooley Dickinson has taken to improve the care of older adults in our community. "It shows that Cooley ED is focused on providing team-based care from staff with geriatric training, increasing focus on comfort and safety, and improving communication with caregivers.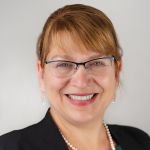 "As a geriatrician, I know that these are all crucial components to ensuring that older adults get the care they need and deserve," adds Starr.
Why Older People Visit an ED
The reasons older people typically visit Cooley Dickinson's Emergency Department range from weakness, abdominal pain, and falls to chest pain, altered mental status and loss of consciousness caused by a drop in blood pressure. Redwood says the Emergency Department has special protocols in place for patients who present with hip fractures; sepsis (blood stream infection); suspicion of COVID-19 and dementia.
An Aging Community
The proportion of the population over age 60 in Cooley Dickinson's service area is projected to grow from 19% in 2010 to 32% by 2035, with the number of older adults increasing from approximately 30,000 in 2010 to an estimated 51,500 in 2035, according to Cooley Dickinson's 2019 Community Health Needs Assessment.
Says Redwood, "We already see this change reflected in the Emergency Department: 32% of patients treated in the ED in 2020 were 65 or older. "
About the Level 3 Designation
The Level 3 designation from the American College of Emergency Physicians is the highest Cooley Dickinson can attain given the Emergency Department's current space configuration. Learn more about the American College of Emergency Physicians GEDA program.
-30-