September 21, 2021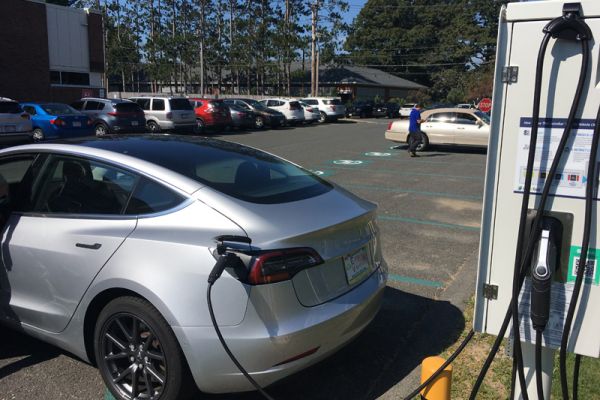 One of the Cooley Dickinson Green Initiative Committee's long-anticipated projects has become a reality, with the hospital's Locust Street lot now being home to an array of new electric vehicle charging stations. Over the summer, crews installed six stations outside Cooley's North building, each with two charging connections, for a total of 12 individual ports that will be available to employees, credentialed providers, patients, families and community members who own electric vehicles. Electric charging will be available while the economics of cost are being studied and some charges may be applied if it's determined to be necessary, especially if vehicles are left in the designated spaces beyond your charging needs.
"We will most likely allow employees and patients to charge for free," says Facilities Director Jonathan Slater, who's been deep in the details of the project, "but we will need to apply a charge if they are not able to disconnect and allow others to use [the station] within a certain time."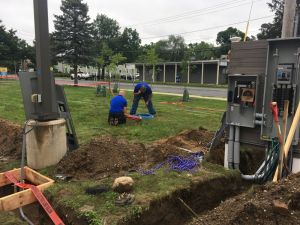 Cooley's Facilities Department worked in tandem with DK Power and Vision Energy Solutions, who wired the charging stations directly into the hospital's main electrical network. The dedicated parking spaces will be ADA compliant, and will likely come with some form of time restrictions for vehicle charging as further understanding of charging rates is gathered through examination of real-world data, aided in part by local electric utility provider/project partner National Grid, who funded a majority of the project. The project was also supported by an incentive program of the Massachusetts Department of Environmental Protection.
"Right now we are trying to understand what the actual costs are per vehicle/per charge versus length of time needed to charge a vehicle," says Slater. "We have a five-year agreement covered in the costs to allow us time to work out these details."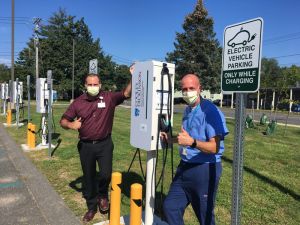 Local electric utility provider National Grid is also involved in supporting the data to help determine final cost expectations and in supporting Cooley Dickinson's final decisions after system start up. The EV stations have their own electric meter that's separate from the hospital's main electric monitoring system, installed to accurately measure usage and provide key metrics for future adjustments and cost analysis.