September 10, 2021

"Plastic Circles" Give Inspiration for New Mural in Pediatric Surgery Unit
Inspired by her love of art and a desire to keep plastic out of the ocean, 13-year old Amanda, a member of Central and Western Massachusetts Girl Scout Troop 11714, created a soothing wave mural out of approximately 1,000 round plastic tops from medication vials. Her abstract creation will soon hang in the pediatric area of the Kittredge Surgery Center at Cooley Dickinson Hospital.
Amanda's 18-month project to earn her Girl Scout Silver Award also included an activity for kids who have surgery at Cooley Dickinson Hospital.
"This project wouldn't have been possible without the nurses, pharmacists and others who saved the plastic tops and caps for me," says Amanda, whose stepmom Betsy works as a registered nurse in the ICU at Cooley Dickinson Hospital.
Amanda hopes her mural "will make kids smile as they are preparing for surgery," and is excited that children "will have an activity to take home with them when they are recovering."
The Silver Award is the highest award a Girl Scout cadette can earn and requires a significant investment of time. "About 50-100 hours of time from the cadette," notes Betsy, "and the project must demonstrate a contribution to the community as well as a change for the better."
Amanda has been advancing through the Girl Scouts since she earned her first badge, the Brownie Home Scientist badge, in 2015.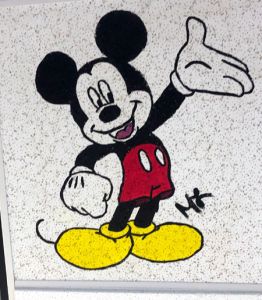 In 2019, Amanda set her sights on the Silver Award after seeing what fellow Girl Scout Megan had painted on a handful of ceiling tiles for her Girl Scout Gold Award project. Those painted decorative tiles, located in pediatric areas throughout Cooley Dickinson Hospital, feature colorful handprints as well as Winne the Pooh and Mickey and Minnie Mouse.
"Seeing Mickey Mouse on the ceiling made me smile," recalls Amanda, who presented her wave mural and the accompanying Mini Mosaics activity packets to Lynn Grondin, director of Nursing for Perioperative and CVIR services, last month. Her mural consists of nearly 1,000 blue, yellow, red and orange tops, artfully arranged, which are glued to a large bulletin board.
The take-home activities for kids, which Amanda named Mini Mosaics, are individually packaged and feature the outline of four different designs – a flower, butterfly, lotus, and snowman – printed on a card, as well as 8-10 plastic tops that kids can use to create their own mini mosaic design.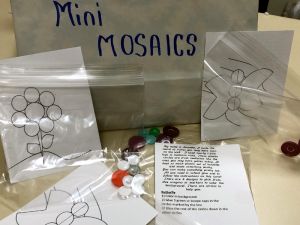 Also included is a personalized note from Amanda, that reads in part, "My name is Amanda. These plastic circles are from medicines you may have gotten today. It kept plastic out of the landfills and made something pretty. You can make something pretty, too. All you need is school glue and to follow the instructions on this card."
With her Silver Award behind her, Amanda is looking for inspiration for her next project – the Girl Scout Senior Level Journey, which is a prerequisite to begin work on her Gold Award. Reflecting on the Silver Award, Amanda adds, "It feels refreshing to be done with this project. It took a long time."