October 8, 2021
The Story Behind Self Portrait at Nine Months
Many of us experience moments in our lives that repeat themselves. Such was the case last month for Northampton artist Robin Freedenfeld.
Robin's painting, Self Portrait at Nine Months, which hangs near the entrance to the Childbirth Center, was the backdrop for Robin's son, Alexander, and his partner, Marthe, recently. The couple had the photo taken with the painting prior to delivering their first child, Isidore, at the Childbirth Center, on Aug. 15.
"Periodically, I do self portraits at pivotal periods in my life," says Robin, who has lived in Northampton since 1978. "Although I began the portrait of Alex at the time when I was nine months pregnant in November of 1985, I was able to finish it just before my second son, Graham, was born at Cooley Dickinson in April of 1987."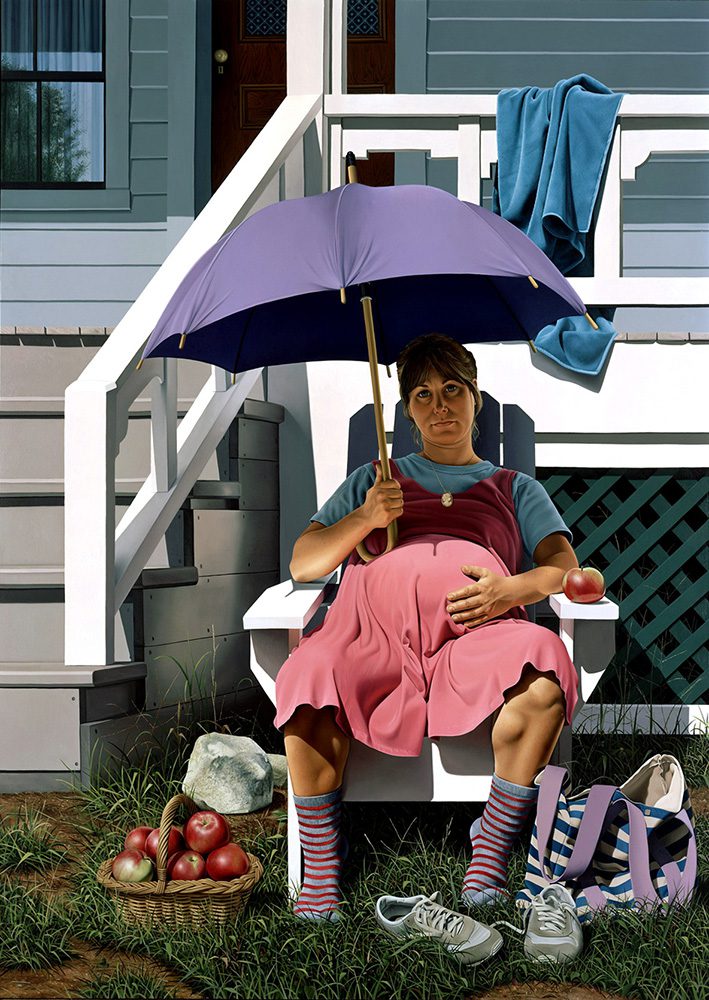 Alex and Marthe had not planned on delivering Izzy, as they call him, at Cooley Dickinson Hospital. The couple were living in California last year and were forced to leave their home due to the state's wild fires and smoke. "So they drove across the country and moved in with me last November," explains Robin. "They became pregnant soon after and decided to live in the area until after the baby was born."
It was when the couple passed by the painting, en route to being admitted to the Childbirth Center, that they decided to have a nurse take their photo.
"They sent me the photo from the hospital," Robin recalls. "And that is when the circle of events impressed me. I could not have predicted that my painting would someday be at the entrance to the maternity ward at Cooley Dickinson, and that the baby in my belly at that time would someday be standing in front of this image with his own pregnant partner at 9 months."
Welcome baby Izzy, and congratulations to new parents, Alex and Marthe, and grandparents Robin Freedenfeld and Mark Immerman. Best wishes from the Cooley Dickinson family to yours!