November 16, 2021
November is Home Care & Hospice Month.
At Cooley Dickinson, we celebrate the nurses, home care aides, therapists, social workers, and all of our employees who make a difference in the lives of patients and the families they serve. In recognizing our dedicated teams that support VNA and Hospice patients, we are grateful to those who choose to serve our patients who wish to live independently in their own homes for as long as they possibly can.
In recognition of Home Care and Hospice Month, Christine Biegner, of Easthampton, shares her experience with the Cooley Dickinson VNA & Hospice.
When did you/your family use Cooley Dickinson's hospice and bereavement services?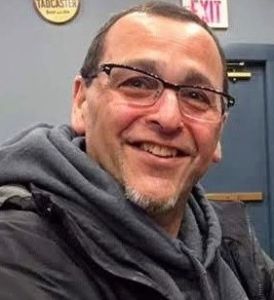 When it became clear that my husband. Michael's stage IV metastatic prostate cancer was no longer responding to chemo and his prognosis was only a few short months, an oncology physician assistant recommended that we contact Hospice. She felt it would be a very worthwhile service for my husband and for my family as he was nearing the end of his life. We signed up for Hospice care in early February and it continued until his death on April 21.
We had a wonderful hospice nurse, Andree. She provided skilled and compassionate care to Michael, answered any, and all of our questions honestly and gracefully, and shared her years of experience and expertise. Andree not only cared for Michael, but she was very kind to me and to our adult children, particularly in those difficult final days until Michael died.
Andree connected us with Sarah, the social worker, and Chaplain Ben. They came to our home every few weeks. We appreciated that not only was Michael being treated medically, but that attention was being paid to his emotional and spiritual well-being. When Andree determined that Michael was nearing his death, both Sarah and Ben met with our whole family to provide support and comfort. Ben brought his guitar and played lovely songs and prayed together with all of us. Both Sarah and Ben reached out to me after Michael's death to offer their condolences which was greatly appreciated as they had gotten to know my husband and myself, as well as our family.
Shortly after Michael's death, I was contacted by Shelly, the Bereavement Coordinator, who provided information about the various programs offered. I have participated in the 8-week support group, attended the book club and occasionally joined the walking group. I also joined the viewing of the film Speaking Grief and the discussion that followed. I find the monthly Journeys newsletters informative and thought provoking, and share them with my children. I have benefited from these programs and appreciate being part of a community where I can share my grief journey.
What would you like others to know about your experience using hospice or
bereavement services?
I think that some people don't understand the depth and breadth of Hospice services; nor do they understand that Hospice can be in place for a longer period than just the final weeks and days of a person's life. Many of our family and friends assumed that my husband had only days to live when we let them know that we had started Hospice services. Although we did not know how much time he had left, we knew it was the right decision to begin addressing his comfort and quality of life – physically, emotionally and spiritually – for as long as possible. We found the holistic approach to be so important and appreciated the care received from Andree, Sarah and Ben over the course of those three months.
In terms of Bereavement services, I think it's important to offer a variety of options. Everyone grieves differently and at their own pace; and what works for one person, might not work for another. You can try an art project or a book reading or a support group to find what works best for you. I feel that I have benefited in participating in these programs and in having a community that understands and supports one another.
After participating in our bereavement services, such as the walking group, what have you learned about yourself and how has it helped you understand grief and coping?
I have learned that grief is harder than I had anticipated. I have learned that interacting with others who are going through the grief process helps me feel validated and not so alone. It helps to know that others have similar thoughts and feelings going through this process. Often conversations are so insightful and provide coping and self-care strategies.
What words of advice or encouragement that you would like to pass along to someone in your same situation?
I would encourage someone in this same situation to be kind and patient with themselves. The grief journey is not linear or quick, so don't attempt to put a time frame on the process. I would suggest trying different bereavement services to find one (or more) that work for you, that provide insight and comfort. Reading and journaling about your grief can be very beneficial as well. Trust that you will reach a point where the love and the grief can co-exist in your heart.
---
Northampton Mayor David Narkewicz to Issue Proclamation
In honor of Home Care and Hospice Month, Northampton Mayor David Narkewicz will read a proclamation at the Cooley Dickinson VNA & Hospice, 168 Industrial Drive (outside), Thursday, Nov. 18, 10:15 am. All are invited to join the VNA & Hospice employees at this special event honoring the work they do throughout the year.