November 10, 2021
The Leapfrog Fall 2021 Safety Score is Cooley Dickinson's fifth consecutive 'A'
Cooley Dickinson Hospital received an "A" Leapfrog Hospital Safety Grade for fall 2021. This national distinction recognizes Cooley Dickinson Hospital's achievements in protecting patients from harm and error in the hospital.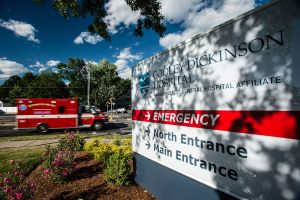 "Cooley Dickinson Hospital continues its successful track record of earning 'A' letter grades," says Cooley Dickinson President and CEO Lynnette Watkins, MD, of the results that were released earlier today by The Leapfrog Group.
Watkins says the 'A' grade announced today represents the fifth consecutive 'A' Cooley Dickinson has earned. "Despite the 20-month COVID-19 pandemic, our staff continue to work exceptionally hard. To all the teams of clinicians across the organization, thank you for your diligence every day and for keeping each patient at the center of all that you do!"
The Leapfrog Group, an independent national watchdog organization, assigns an "A," "B," "C," "D," or "F" grade to general hospitals across the country based on over 30 national performance measures reflecting errors, injuries, accidents and infections, as well as systems hospitals have in place to prevent harm.
For the Fall 2021 grade, Cooley Dickinson's work on hand hygiene was important to achieving our A grade. "Leapfrog modified the hand hygiene survey requirements earlier this summer making it a much more difficult benchmark to achieve," noted Chief Medical Officer Estevan Garcia, MD. "Our colleagues rose to the challenge and did the work to meet this important safety measure."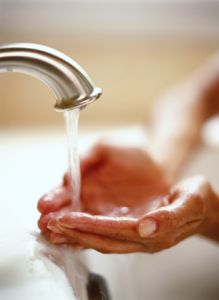 In addition, Cooley Dickinson continues to benchmark against best practices in the areas of Computerized Physician Order Entry (CPOE), Bar Code Medication Administration (BCMA), ICU Physician Staffing requirements and Patient Experience, which also helped Cooley Dickinson reach this significant achievement
Says Watkins, "Upholding quality is one of Cooley Dickinson's organizational values. We believe in a constant focus on quality and safety, never settling and always improving: this is what our community expects every day, every time they seek care from us."
The Leapfrog Hospital Safety Grade is the only hospital ratings program based exclusively on hospital prevention of medical errors and harms to patients. The grading system is peer-reviewed, fully transparent and free to the public. Grades are updated twice annually, in the fall and spring.
"An 'A' Safety Grade is a tremendous achievement, of which this community should be extremely proud," said Leah Binder, president and CEO of The Leapfrog Group. "I thank the leadership and workforce of Cooley Dickinson Hospital for its commitment to prioritizing patients and their safety, especially during these trying times."
To see Cooley Dickinson Hospital's full grade details and to access patient tips for staying safe in the hospital, visit HospitalSafetyGrade.org
About Cooley Dickinson Hospital
Cooley Dickinson Health Care, a member of Mass General Brigham, is an acute care health care system that offers community-based health care services. 24-hour emergency care; services including medical/surgical; orthopedic; obstetric/gynecologic; psychiatric; rehab, lab, and imaging/radiology; and the Mass General Cancer Center at Cooley Dickinson. The VNA & Hospice provides home health and hospice nursing and rehab visits. The Cooley Dickinson Medical Group offers an extensive network of primary and specialty care providers throughout Hampshire and southern Franklin counties. Learn more at cooleydickinson.org
About The Leapfrog Group
Founded in 2000 by large employers and other purchasers, The Leapfrog Group is a national nonprofit organization driving a movement for giant leaps forward in the quality and safety of American health care. The flagship Leapfrog Hospital Survey and new Leapfrog Ambulatory Surgery Center (ASC) Survey collect and transparently report hospital and ASC performance, empowering purchasers to find the highest-value care and giving consumers the lifesaving information they need to make informed decisions. The Leapfrog Hospital Safety Grade, Leapfrog's other main initiative, assigns letter grades to hospitals based on their record of patient safety, helping consumers protect themselves and their families from errors, injuries, accidents, and infections. Learn more at www.HospitalSafetyGrade.org
-30-