February 1, 2022
President & CEO of Cooley Dickinson Health Care Lynnette M. Watkins, MD, MBA, was voted onto the Board of Trustees of the Massachusetts Health & Hospital Association (MHA) on Jan. 28, 2022. MHA serves as the leading voice for the commonwealth's hospitals and health systems.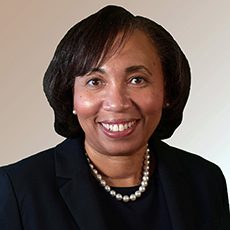 As an MHA Board member, Watkins will help advance the healthcare community's mission to provide high quality, affordable, and equitable care for patients in Massachusetts.
"We are excited to welcome Dr. Watkins to our Board at a time when strong leadership is more critical than ever for our healthcare system," MHA President and CEO Steve Walsh. "In just her short time at the helm of Cooley Dickinson, Dr. Watkins has emerged as an extraordinary advocate for the patients, caregivers, and communities that the organization serves. Her expertise in care quality, patient safety, and financial management will be of tremendous value to the work of MHA and our members."
MHA's Board of Trustees continues to be at the center of the commonwealth's response to the COVID-19 crisis, using a collaborative approach to take on the greatest set of challenges the provider community has seen. It also steers the direction of the association's advocacy efforts on Beacon Hill and Capitol Hill, while carrying forth the state's longstanding legacy in healthcare innovation."
In addition, the 2022 Board will oversee the association's strategy to address diversity, health equity, and inclusion, including the recently announced push to ensure diverse representation on governing boards.
Watkins, an ophthalmologist and widely respected health care administrator and leader, took over as President and CEO of Cooley Dickinson Health Care in September of 2021. Prior, she was the group chief medical officer for the Baptist Health System/Tenet Healthcare -Texas Group.
###
About Cooley Dickinson Health Care
Cooley Dickinson Health Care, a member of Mass General Brigham, is an acute care health care system that offers community-based health care services. 24-hour emergency care; services including medical/surgical; orthopedic; obstetric/gynecologic; psychiatric; rehab, lab, and imaging/radiology; and the Mass General Cancer Center at Cooley Dickinson. The VNA & Hospice provides home health and hospice nursing and rehab visits. The Cooley Dickinson Medical Group offers an extensive network of primary and specialty care providers throughout Hampshire and southern Franklin counties. Learn more at cooleydickinson.org
About Massachusetts Health & Hospital Association
The Massachusetts Health & Hospital Association (MHA) serves as the unified voice for Massachusetts hospitals and healthcare providers. Founded in 1936, MHA represents over 100 hospitals, healthcare partners, and patients across the state. Through advocacy, education, and collaboration, MHA's mission is to improve the overall health of the commonwealth and support providers' efforts to offer high-quality, affordable, and accessible care. For further information about MHA, visit the MHA website or contact communications@mhalink.org.