March 30, 2022
You Make a Difference Award: March 2022
Irving Echevarria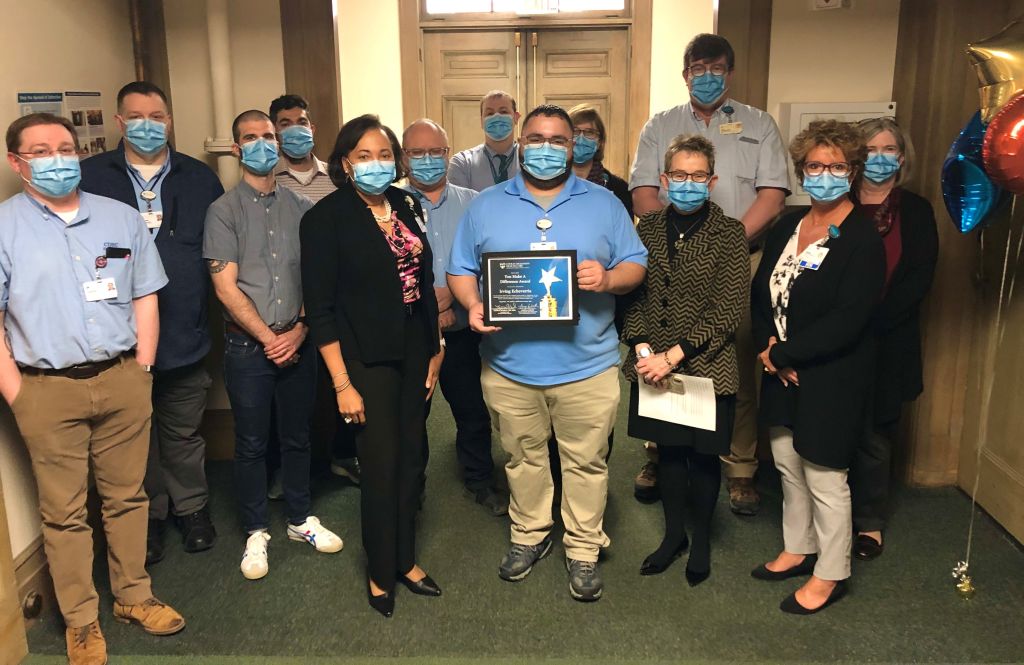 Congratulations to Irving Echevarria, IS Helpdesk Tech, on being honored as the March recipient of the You Make a Difference Award!
The You Make a Difference Award is recognition for team members who are making a difference for patients & families, for their coworkers, and in their community every day. We recognize Irving for being a role model that his team members look up to, and for living our organizational values every day.
During the award celebration last week Ryan Racine, Manager of IT Support and Data Operations, shared, "we are all so glad to have the opportunity to honor Irving with this well-deserved award recognition". Irving demonstrates a willingness to get things done. From administrative to patient care needs, Irving is a very responsive collaborator who quickly notes "I can assist with that!"
Irving is described as a team player who always knows what to do and calmly makes things happen with a positive demeanor. "Irving has foresight into what needs to be considered and communicates that in a respectful manner", said nominator Donna Polwrek, Executive Assistant.
We are so grateful to have Irving on the Cooley Dickinson our team!
Thank you, Irving, for being a Team Player! You truly make a difference in the care of our employees and patients!
Want to personally congratulate Irving?
Send a Kudos for Coworkers and thank Irving for his amazing work!
Learn more about previous You Make a Difference Award honorees – click here to read their inspiring stories.