April 15, 2022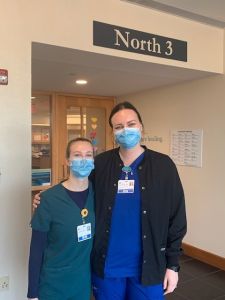 Nursing is the nation's largest health care profession. The Bureau of Labor Statistics projects that more than 275,000 additional nurses are needed through 2030. Yet nurse staffing challenges at hospitals nationwide – both pre-pandemic and now – coupled with work-related burnout and retirement – are putting extreme stress on an already fragile occupation.
Locally, Cooley Dickinson's nursing leadership team understands the challenges of recruiting and retaining nurses and is seeking ways to build a strong nursing workforce for the future.
Last month, 14 new nurses completed a nurse mentorship pilot program on the hospital's medical/surgical unit.
"Starting a new job is challenging, and I'm always worried I won't fit in," said new nurse and mentee Linnea Winter, RN. "I was so happy to have a peer to go to when I needed support. The mentorship program helped build my confidence and offered me a safe space to ask questions."
Winter and 13 other nurse mentees recently completed the Cooley Dickinson Nurse Mentorship pilot program. It was designed to provide an early connection for new nurses to their more seasoned mentors. Meeting every two weeks over the course of three months, the program began at the end of clinical orientation and was designed to last throughout a nurse's first year of employment. The meetings are considered paid educational time.
"From the data collected, the program seems to have accomplished its goal," said nurse mentorship program creator and Cooley Dickinson Nurse Director Margaret-Ann Azzaro, MSN, RN, CENP. "It increased job satisfaction and new nurse confidence, and perhaps most importantly it reduced new nurse turnover and strengthened nurses' resolve to stay in the job."
Due to the success of the program, Azzaro said, the program was rolled out in the rest of the nursing units in the hospital, including in Behavioral Health and in the Emergency Department.
Cooley Dickinson Hospital's Mentorship Program is for any nurses with less than 6 months of experience in the acute care setting. The program fosters trust, empathy, respect, and teaches skills in how to give and receive feedback.
There are benefits, too, for seasoned registered nurses. "I really enjoyed the program," said Rita Pickert, a wound care nurse who participated in the pilot program as a mentor; Pickert has worked as a registered nurse since 2013. "I know it was designed to help the mentees. But I felt like it helped me too."
The program can help bring a sense of ownership and responsibility for the education and improvement of mentors' greener colleagues as well, and help to form lasting professional relationships. Pickert says being a mentor gave her "a different perspective" and made her "feel more empowered as a nurse with experience" on the job.
Some of the other benefits of mentorship include Increased support after orientation and the building of collaborative learning relationships with mutual goals. "I still talk to my mentee regularly," added Pickert, "and she still comes to me with questions, or just to vent, which I think is so important – having someone like that who you can (safely) go to, to talk about work-related things without any judgement."
"We're very excited by the new program," Azzaro noted, "but we also see the value of the program as a potential recruitment tool and hope to highlight it in future outreach as a benefit of coming to work as a new nurse at Cooley Dickinson."
The hospital's Nurse Mentorship program is funded by the Cooley Dickinson Nurse Development program, which supports the next generation of nurses by providing specialty training, mentorship and leadership development.
To learn about nursing job opportunities at Cooley Dickinson, visit www.cooleydickinson.org
-30-