May 17, 2022
Cooley Dickinson Geriatrician Rebecca Starr, MD, says there is a saying that 'mobility is medicine,' "and this is especially true when it comes to older adults."
Last month, Cooley Dickinson began a new program to help meet the needs of older adults who qualify for assistance from trained mobility volunteers.
"We know that an older adult can lose up to 5 percent of their muscle mass for every day they are in a hospital bed," Starr said, noting that immobility increases the risk of falls and other complications.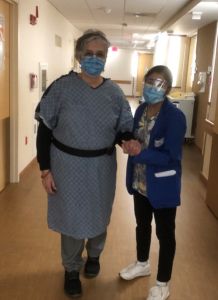 Starr, in collaboration with the Rehab Services and Nursing staff as well as Director of Volunteer Services Robin Kline, established the Volunteer Mobility program, an initiative to help prevent loss of function, deconditioning and complications associated with bed rest in older adults.
"Our new mobility volunteer program is such an important and innovative component to helping prevent this muscle loss. Further, it helps us get closer to our goal of having Cooley Dickinson earn the designation as an Age Friendly Health System."
Mobility Program Gains Traction
The mobility volunteer initiative began at Cooley Dickinson after Lynn Kurowski, OTA, and Maddison Sullivan, PTA, along with several of their colleagues, visited Hartford Hospital, which for years has run a very successful Volunteer Mobility program.
During that visit, they had an opportunity to speak with the rehabilitation and nursing staff as well as current volunteers. Subsequently, in collaboration with Volunteer Services, they developed a position description and training for both volunteers and Cooley Dickinson staff. The program was piloted with just a few volunteers and training is continually honed based on their feedback and observations. Currently 5 volunteers are helping mobilize patients.
"The nursing staff are so happy to see their patients have the opportunity to move more during the day, and the patients are grateful for the opportunity to walk and talk in a safe environment," noted Lynn Kurowski, PTA.
Eligible Patients
The volunteers are trained to ambulate medically stable patients deemed safe by the nurse or physical therapist. The program focuses on patients who require minimal assistance only. Volunteers can also help staff members walk patients who may require more support. Volunteers are trained to adhere to safety criteria by helping patients don slipper socks and gather equipment such as a walker or oxygen tank in preparation for walking. So far, the response to the program has been very positive and has expanded from North 3 to include West 2.
An Age Friendly Health System
Cooley Dickinson Hospital is working toward the achievement of becoming an Age Friendly Health System, a national initiative whose goal is to deliver high quality care for older adults. The Age Friendly Health System Committee, under the leadership of Dr. Starr, agreed that the use of volunteers could greatly increase the amount of mobilization offered to patients.