May 13, 2022
Cooley Nurses Honor their Own at Annual Nurses Week Celebration
You couldn't have asked for a better day for the annual Cooley Dickinson Nurses of Distinction awards ceremony, with the sun (finally!) shining down and a gentle breeze blowing through the Cooley Dickinson Hospital Healing Garden, nor a more deserving cadre of caring, colorful clinicians.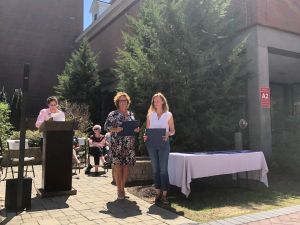 Cooley Dickinson President and CEO Lynnette Watkins, MD, MBA, opened the celebration with remarks followed by an invocation by Cooley Chaplain Rev. Yohah Ralph and an additional welcome from Cynthia Suopis, co-chair of the CDH Patient Family Advisory Committee (PFAC), who lauded Cooley nurses on many fronts.
Presiding over the awards were members of Cooley Dickinson's longtime nurse leadership, including the nursing directors of all hospital floors and departments, clinical education and VNA & Hospice, and headed by Chief Nursing Officer Angela Belmont.
The ceremony recognized the awarding of licensure and advanced degrees, Nurses of Distinction awards, and awarding of nursing scholarships.
View CNO Angela Belmont's Introductory Speech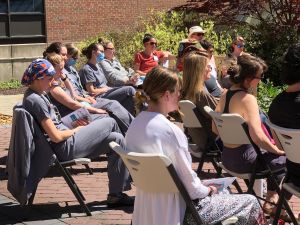 The Nurses of Distinction awards – often the most appreciated – are awards given out based on nominations from peers.
Recipients of the 2022 Nurses of Distinction awards

• Sara Cook, RN
• Callie Duda-Horrigan, RN
• Betsy Mathews, RN
• Brooke Matuszko, RN
• Jim Terapane, RN
• Erotides Silva, RN
• Thomas Hart, RN
• Willow Sirum, RN
• Mary Parker, RN
• Katherine Remillard, RN
• Alyssa Strong, RN
• Rose Tottser, RN
• Sarah Stracco, RN
• Anne Messier, RN
Nursing scholarships awarded included those for the Edward Moss Memorial Scholarship Fund (Katelyn Meunier and Samantha Gardner); the CDH School of Nursing Alumni Scholarship (June Steere); The Zucker Family Scholarship for Advanced Nursing Education (Hannah Collins-Wolfe); The Heidi J. Sheehan Excellence in Nursing Scholarship (Parash Pijar); and the Therese Connor Nursing Education Fund Scholarship (Alexandra West).
Congratulations to all of the 2022 Nurse of Distinction awardees and scholarship recipients.
-30-