May 31, 2022
Memorial Day Remembrance
Members of the Cooley Dickinson VNA and Hospice – Jennifer Crain, Director of Patient Care Services; Karen Miller, Hospice Manager; Ashley Watt, Home Health Aide and Tina Leflar, Volunteer Coordinator, along with volunteers Susette Lyons and James Arnold – took part in an event last Wednesday to place 11,000 flags on the graves of Veterans at the Massachusetts Veterans' Memorial Ceremony in Agawam.
According to the Massachusetts Veterans' Memorial Cemetery Facebook post, the public was invited to "help place flags at all of our Veterans' gravesites throughout the cemetery."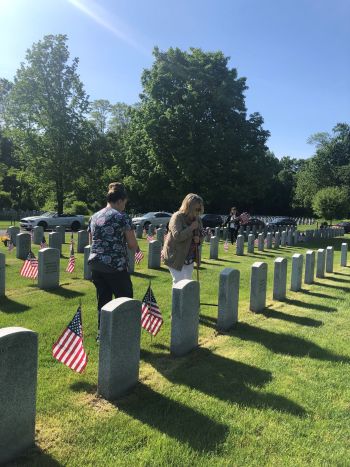 "I felt it was important that we show our dedication, respect and appreciation to our Veterans and their families," Jennifer says. "As a Hospice team, focusing on the unique needs of our Veteran community, it is important to participate and give back to those who have served."
Jennifer noted that the event started at 8:30 am and within approximately an hour, every grave displayed the American flag.
The Cooley Dickinson Hospice team has made the commitment of learning and embracing the unique needs of our Veterans.  "End-of-life care for the Veteran requires knowledge, understanding and respect," Jennifer explained.
"Our team has joined in the We Honor Veterans program; a program 'dedicated to meeting the unique needs of American's Veterans and their families by offering guidance and resources focused on respectful inquiry, compassionate listening, and grateful acknowledgement so that Veterans can be guided toward a more peaceful ending.'"
At a ceremony at the cemetery, Tina recalled the director of the Cemetery spoke about how to place the flags and explained that these flags represent the sacrifice these veterans made for our freedom.
"The entire event was very moving, and on that day I could see, firsthand, what being a Veteran really means in terms of their love for our country," said Tina, pictured at right.
Cooley Dickinson's Hospice Program is proud to be a Level 3 We Honor Veterans program.
Added Jennifer, "our goal is to achieve Level 4 in 2023.  Each level signifies your commitment and amount of education you have received and education you have done for the Community.  Our Hospice team has done presentations for the Amherst Rotary Club, Central Hampshire Veteran Services and the Western Mass Veteran Services Officer Association (WMVSOA)."
To learn more about Cooley Dickinson Hospice and the We Honor Veterans program, please contact Jennifer Crain.