May 6, 2022
You Make a Difference Team Award: April 2022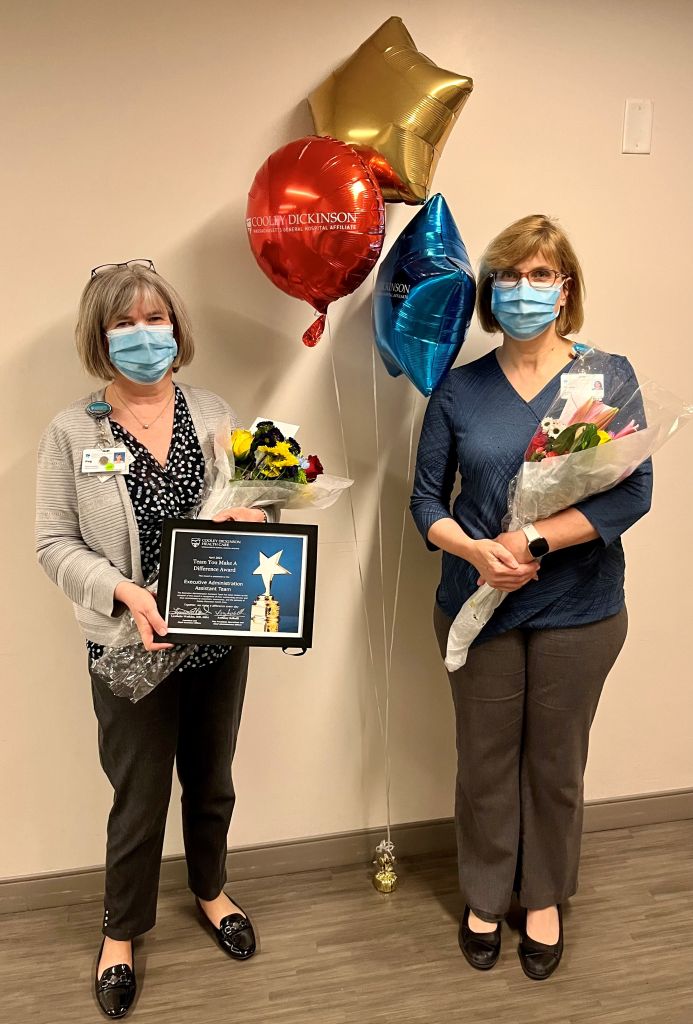 Executive Administration Assistant Team
Congratulations to the Executive Administration Assistant Team on being chosen as the recipient of the April You Make a Difference Team Award! The Executive Administration Assistant Team is composed of Donna Polwrek and Peg Jekanowski.
The Team You Make a Difference Award was created to recognize the many Cooley Dickinson teams that exemplify the values of the organization and are models for other teams.
We celebrate and appreciate our administrative professionals and in honor of Administrative Professional's Day last week we celebrated the Executive Administration Assistant Team during a celebration including the Senior Leadership and Nursing Leadership teams.
Donna and Peg have intensely busy schedules performing tasks and managing calendars for multiple people. They work as a team to take care of not only the Senior Leadership Team but offer support for any who ask as well. When requested to assist with a project, a form, a purchase, or other miscellaneous jobs they don't blink an eye and are always willing to help. The nomination for this team was submitted by the Nursing Leadership team who had this to share; "Peg and Donna are always kind, responsive, and willing to help. They have both supported nursing through the pandemic and made sure that the nursing leadership team had some TLC. We are forever grateful for everything they do for the team. They 'make a difference' every day to all of us!"
Donna and Peg have made a difference in all of our lives by assisting with numerous and varied requests on a day-to-day basis. We are thankful for all of their hard work and appreciate all that they do!
Thank you, Donna & Peg for Making a Difference!