July 27, 2022
NORTHAMPTON, Mass. – Cooley Dickinson Hospital has been named a Best Maternity Hospital 2022 by Newsweek magazine. This award is presented by Newsweek and Statista Inc., the world-leading statistics portal and industry ranking provider.
"Congratulations to all of our Childbirth Center, OB/GYN and Midwifery, and pediatric providers," said President and Chief Executive Officer Lynnette Watkins, MD, MBA. "I applaud the work of these teams to ensure our patients and families receive exceptional, compassionate, and personalized care every day in our Childbirth Center and medical offices. This award validates their utmost commitment to our families."
The Newsweek/Statista list names the top 350 leading hospitals for maternity care in the United States, which are divided into two performance categories: five ribbon hospitals (161 institutions) and four ribbon hospitals (189 institutions); Cooley Dickinson earned four ribbons. See the complete list online at Newsweek.com/bmc-2022.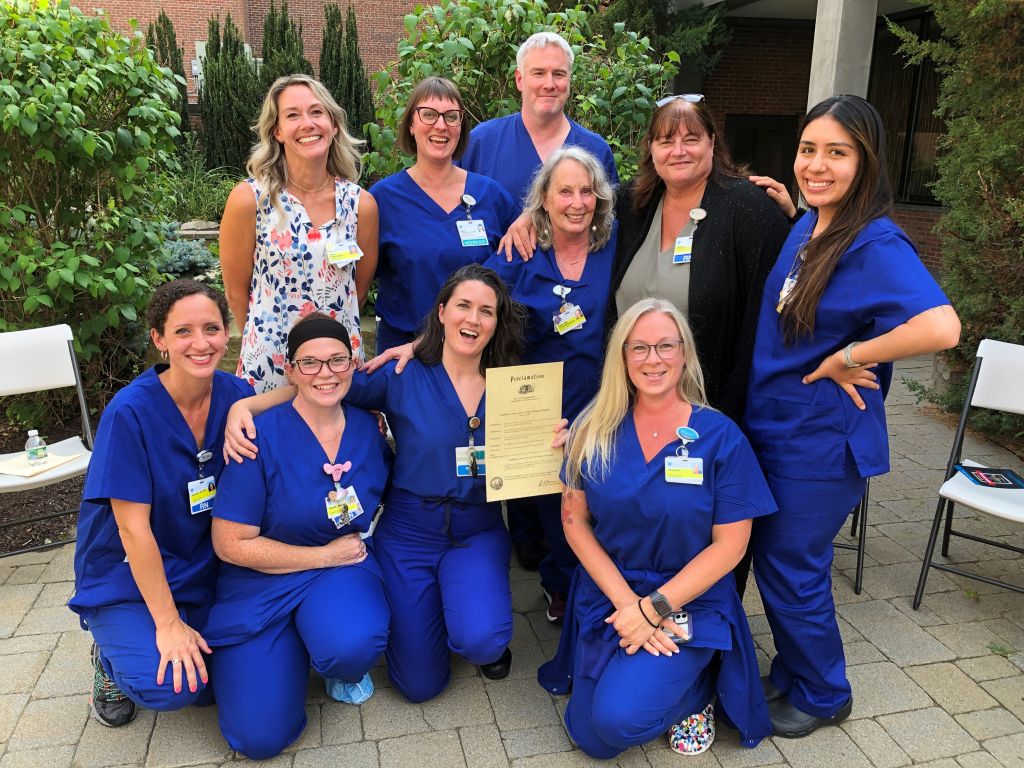 Livestream Celebration/"Childbirth Center Day" Proclamation
Watch highlights from the celebration here, including a proclamation ready by  Northampton Mayor Gina-Louise Sciarra. Mayor Sciarra declared July 27, 2022 "Childbirth Center Day at Cooley Dickinson Hospital."
Methodology
Newsweek and Statista developed a complex methodology to ensure the quality and validity of the ranking. They invited over 10,000 medical professionals to participate in the survey. Only 350 winners were recognized on the Best Maternity Hospitals 2022 list. Three data sources were used for the evaluation:
Nationwide online survey: hospital managers and health care professionals with knowledge about maternity processes e.g. midwives, neonatal and OB/GYNs were asked to recommend leading maternity hospitals in the U.S.
Medical Key Performance Indicators on hospitals with a focus on indicators relevant to maternity care
Results from patient surveys
Childbirth Center Renovations
Cooley Dickinson Hospital's Childbirth Center is being renovated to update the space and add important new services, such as upgrading the newborn nursery to provide newborns with extra care and attention.
Family-focused care requires new equipment and furnishings, including ergonomic labor beds; comfortable partner/family beds; overhead heat lamps to facilitate skin-to-skin contact and foster healthy attachments; wireless fetal monitors for infants and hemodynamic monitors – advanced technology when needed – for the birth parent.
The goals of the renovations are to provide a "homebirth in a hospital" experience, with an emphasis on nurture and support, and to allow patients to be surrounded by partners and family.
To date, $2.3M of the $2.8M project budget has been raised in support of the Childbirth Center. Renovations are expected to be completed in January of 2023.