August 16, 2022
Several Providers and Practices Recognized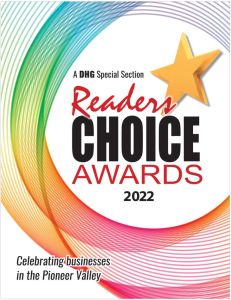 Cooley Dickinson has been voted winner of the Daily Hampshire Gazette's 2022 Readers' Choice Awards, in nine different categories.
Leading the pack were awards for Best Hospital; Best Physical Therapy (Cooley Dickinson Rehabilitation Services); Best Home Health Care (Cooley Dickinson VNA & Hospice); and Best Orthopedics Practice (CDMG Orthopedics & Sports Medicine).
Longtime local favorite Simone Topal, MD, takes home the award for Best Cosmetic Surgeon (individual) and joins her colleagues at CDMG Plastic Surgery in garnering the laurels for Best Cosmetic Surgical Practice.
Sharing the Readers' Choice Award for Best Individual Health Care worker were Peter Elsea, MD, and PA Lauren Cartwright, both at Northampton Family Medicine.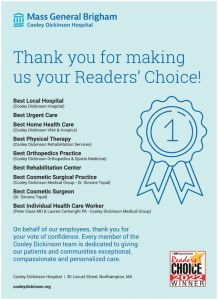 In addition to the winners, Cooley had several finalists including Best Family Doctor/General Practice (multiple Cooley primary care offices), Cooley Dickinson's Urgent Care (Southampton) and John Tsongalis, MD, ranking as a finalist for Best Individual Health Care Worker (also at Northampton Family Medicine).
A big thanks to all of our patients, providers and staff who voted for Cooley Dickinson, and to the Gazette for helping to give a collective voice to the people of the Pioneer Valley.