September 6, 2022
You Make a Difference Team Award: August 2022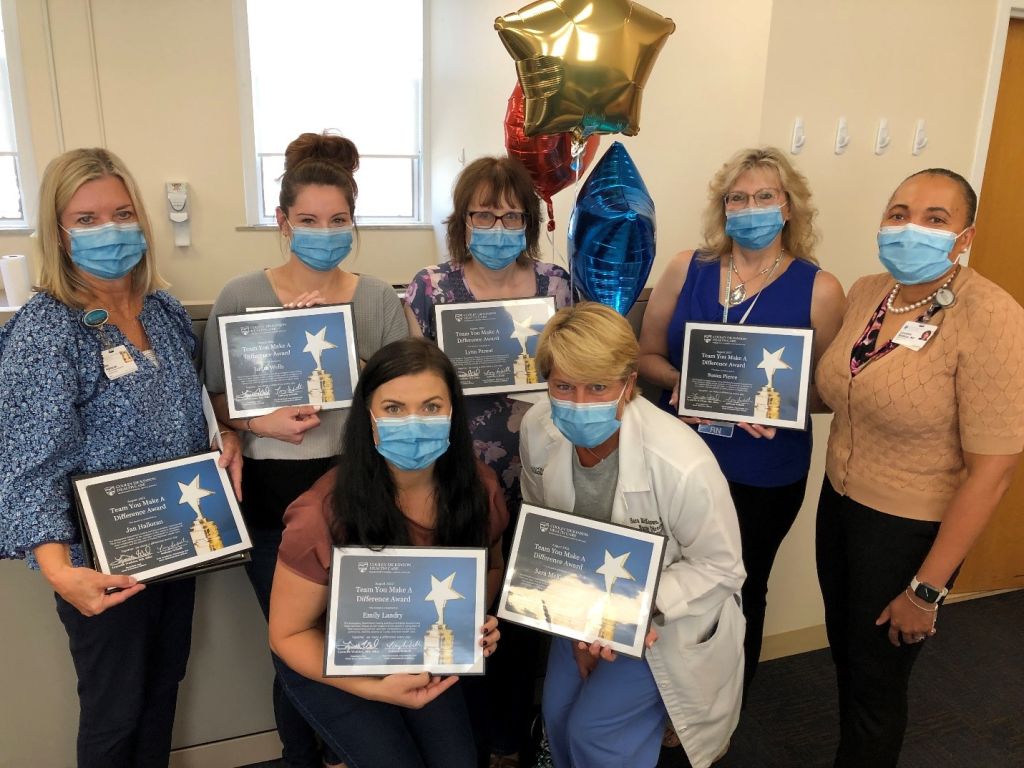 Emergency Department Coding and Documentation Improvement Team
Congratulations to the Emergency Department Coding and Documentation Improvement Team on being chosen as the recipient of the August You Make a Difference Team Award!
The Emergency Department Coding and Documentation Improvement Team Members:
Rebecca Bench, Professional Development
Jan Halloran, HIM
Emily Landry, HIM
Sara McKeown, Emergency Department
Lynn Parent, HIM
Sue Pierce, Emergency Department
Robert Redwood, MD Emergency Department
Laura Wells, HIM
 
Back in October of 2017, when CDHC went live with Epic, the Emergency Department coders hit the ground running with two new processes; charging and coding the professional side of the ED billing process, and learning a new process for the hospital side. They learned the documentation guidelines for professional E&M (evaluation and management) services and the new MGB charging matrix for the hospital billing.
During this process they had to make sure the average ED level was not impacted, as it would have a direct effect on our hospital reimbursement. The team worked closely with MGB to make sure they were aware of the issues with the ED charging matrix and how it was impacting CDH. Dr. Redwood met with the coders monthly educating them on the severity of the care the ED providers were delivering. This was a tremendous learning experience for all involved and with Dr. Redwood's partnership, the team improved the provider ED documentation and coding.
The ED coding team also worked with the ED nursing staff on their documentation for hospital reimbursement and with the ED nursing leadership to achieve improved documentation. Sara McKeown and Jan Halloran partnered with the MGB ED nursing and coding leadership, to improve their understanding of the complexity of the nursing assessments as they relate to calculating the E&M level we charge for hospital reimbursement. The improvements that the team made in the calculations used for technical E&M levels are now included in the MGB coding policy for ED E&M levels!
Through this team's hard work and efforts, the average professional and hospital ED levels have increased and have had a tremendous impact on patient care and reimbursement. This is a wonderful example of how colleagues from various departments can work as a team to make a difference! Thank you, Emergency Department Coding and Documentation Improvement Team for Making a Difference!
Want to personally congratulate members of the ED Documentation Improvement Team?
Send a Kudos for Coworkers and thank each of them for their amazing work!
Learn more about previous You Make a Difference Award honorees – click here to read their inspiring stories.