November 17, 2022
NORTHAMPTON, MA – A wide range of health care classes are once again available at Cooley Dickinson Hospital, returning the organization's offerings to pre-pandemic levels.
The classes include instruction on life-saving aid, as well as certification and re-certification opportunities for workers who require them.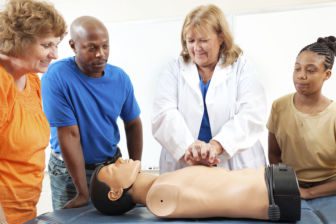 "We know how important these educational opportunities are to the community. Unfortunately, the classes became a safety challenge, and our attendance understandably dwindled, during the pandemic," said Lauren Grybko, Director of Nursing and Professional Practice Education. "Now that we have the proper precautions in place, we are excited to return to our full complement of classes."
The hospital has a wide variety of educational offerings, including Basic Life Support (BLS), a class geared towards health care providers that trains them to promptly recognize several life-threatening emergencies, give high-quality chest compressions, deliver appropriate ventilations, and provide early use of an AED.
The hospital's Heartsaver CPR AED First Aid course is a similar course designed for anyone with little to no medical training that wants to be prepared for an emergency in any setting.
Other offerings include courses on choking safety for food service workers, babysitting, Advanced Cardiovascular Life Support (ACLS), Pediatric Advanced Life Support (PALS), and Pediatric Emergency Assessment Recognition and Stabilization (PEARS).
Please visit cooley-dickinson.enrollware.com/schedule for a full list of sessions and pricing.  For more information, please call the Professional Development Office at 413-582-2400 or email CDHCnurseprodev@cooleydickinson.org. Please email if your facility is interested in group training.