November 25, 2022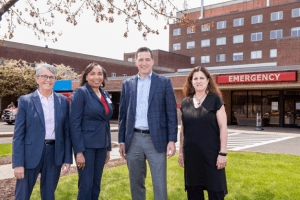 On Giving Tuesday, Nov. 29, Cooley Dickinson Hospital to Benefit from bankESB's Matching Gift Program: For Every $2 raised, bankESB to donate $1 to Emergency Department Expansion Campaign. 
NORTHAMPTON, Mass. – Individuals and organizations contributing to Transforming Emergency Care: Campaign for the Cooley Dickinson Emergency Department can increase the impact of their donations through a matching grant program sponsored by bankESB.
In May, bankESB committed to fund a $500,000 challenge grant to support the Cooley Dickinson Hospital Emergency Department, a $19.76 million expansion, reconfiguration, and renovation effort. For every $2 donated through Dec. 31, bankESB will give $1, up to a maximum of $500,000
"Access to quality medical care is something we all count on," said Matthew S. Sosik, president and CEO of bankESB. "bankESB is pleased to do its part in supporting Cooley Dickinson. And we hope others will do the same, either on Giving Tuesday or by Dec. 31, 2022."
Cooley Dickinson Hospital President and CEO Lynnette Watkins, MD, MBA, describes the hospital's Emergency Department as the organization's front door. "Patients and their families who come to the Emergency Department are at their most vulnerable. It's important for us to provide a safe, warm, welcoming environment to every patient. We rely on great community partners, like bankESB, who give so generously in support of that care we provide every day," Watkins said.
"This challenge grant is a wonderful opportunity for our community members to make a gift that has an even greater impact because of bankESB's generosity," noted Watkins. "I encourage everyone to help us meet this challenge. And know that your gift supports the care that is provided here, in your community."
Added Sosik, "The hospital's efforts to transform its Emergency Department into one that is as up-to-date as possible will unlock its full potential to meet the ever-evolving emergency medicine needs of all members our community, from infants to older adults."
So much has changed since the Cooley Dickinson Hospital Emergency Department was first established in 1975. The annual number of patients has more than doubled from approximately 17,000 in the 1970s to more than 35,000 in 2022. Currently, the department is 40 percent undersized to meet the community's needs.
Gifts to the Emergency Department will enable Cooley Dickinson Hospital to increase the number of patients they treat and streamline the space to optimize patient comfort, patient flow – or how patients receive treatment in the department – and staff communication. In addition, the expansion project will reduce wait times, (more space and a better designed environment means patients will receive care sooner); relocate a computerized tomography (CT) scanner within the department, to ensure quicker access to diagnostic care; and increase the number of patient rooms.
Sosik and Watkins thank local residents for supporting Cooley Dickinson on Giving Tuesday, Nov. 29, adding everyone has something to give and every act of generosity counts.
Contributions may be sent to the Cooley Dickinson Hospital Development Office, P.O. Box 329, Northampton, MA 01061-0329 or made at cooleydickinson.org/givenow
About Cooley Dickinson Hospital
A member of Mass General Brigham, Cooley Dickinson is an acute care hospital that offers community-based programs and services in Northampton, Massachusetts. In addition to the hospital, our system includes community-based primary care and specialty practices in Hampshire and Southern Franklin counties of Massachusetts and our VNA & Hospice program, which provides home health and hospice nursing and rehab visits. We are committed to serving our patients and communities with exceptional, compassionate and personalized care. Learn more at cooleydickinson.org
-30-