December 2, 2022
Community members interested in learning about their options for weight loss surgery are invited to attend a free, virtual information session with bariatric surgeon Ursula McMillian, MD. The next session will be held via Zoom on Thursday, Jan. 19, from 5:30 to 6:30 pm.
Weight loss surgery is considered by the medical community to be the most effective and enduring option to reduce body weight in people who are considered morbidly obese. It can restore a person's dignity, and most importantly, their health and survival.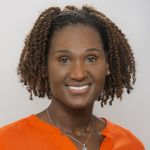 Session topics include the obesity epidemic and the history of weight loss surgery; goals and benefits of surgery; the types of weight loss surgeries performed at Cooley Dickinson Hospital, and the patient's journey leading up to, during and after surgery.
"Proper weight management, combined with weight loss surgery, has been the only intervention shown to produce long term weight loss success," said McMillian, who underwent weight loss surgery more than a decade ago.
McMillian is the medical director of Cooley Dickinson's Bariatric and Weight Management program, which is part of Cooley Dickinson Medical Group General Surgical Care, located at 15 Atwood Drive in Northampton. The hospital announced its new surgical weight loss program earlier this year. The program is designed for people who have tried other weight loss methods, and combines surgery with lifestyle changes that must be made prior to any procedure.
To register for the Jan. 19 event, or to inquire about upcoming sessions, contact Heather at hcostabile@cooleydickinson.org or call 413-584-4637. Once registered, participants will receive a Zoom link to join the virtual event.
-30-