January 24, 2023
This past month, the Friends of Cooley Dickinson honored two of their long-time supporters for their many years of contributing, in a multitude of ways, to the organization.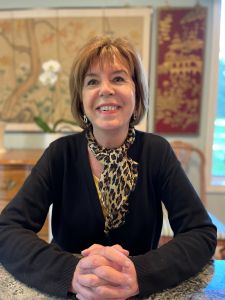 Diana Tindall is a familiar face around the hospital, having served in several volunteer and staff roles including mail delivery, patient direction and main check-in/mask dispensary, and as a staple behind the counter at the coffee shop. She's been at Cooley since 2009, and as a member of the Friends she's chaired the committee for the fashion show and the scarf and pocketbook sale. She's assisted with the Historic Home tour and the annual Trees of Love and Thanksgiving drive, and is always willing to help, from selling tickets to giving out information. She has been organizing the annual Holiday Gift Wrap fundraiser at the Baker's Pin since 2016 and has successfully created good will in the community as well as raised funds. Diana has been the Secretary for the Friends since 2018.
"We are incredibly fortunate to have Diana on our Friends board and look forward to many more years of her support," says Friends Chair JoAnne Finck. "We are so grateful for her hard work, her organizational skills and her caring for others."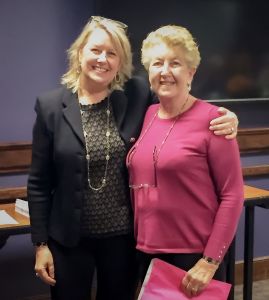 Also honored at the Dec. 15th online celebration was volunteer Lois Siegel, whose membership in the Friends long predates its current name. Lois, who joined the then-named Women's Auxiliary in 1966, has been a member of Friends for an impressive 56 years. Lois helped with the "Follies," which was a very successful annual fundraiser of the era, and also volunteered at the Locust Street Information desk, helping patients and visitors find their way, until 1972. She left to raise her family – for some decades, but remained a member, and in 2004 was nominated to serve as secretary of the Auxiliary by her dear friend Sue Hodgkins.
Lois has continued to support the board since then, covering a number of positions including Corresponding Secretary, Legislation and now Membership.
"Lois is dedicated, detail oriented, and conscientious in all she does," JoAnne said at the online ceremony. "We celebrate her today for her incredible commitment and her devotion to the Friends of CDH and to the hospital. She is an important part of the tradition of community members who have given so much of themselves to the Friends of Cooley Dickinson and the hospital. We are deeply grateful for her continued support and for all that she has given over the years.
"I am very honored to work with both Lois and Diana," she reiterates. "They are the perfect examples of what the Spirit of Volunteerism is all about. They exude a passion for our local hospital and by their efforts continue to make it a fantastic community resource! I encourage others to please join the Friends to continue to support Cooley Dickinson Hospital."