January 10, 2023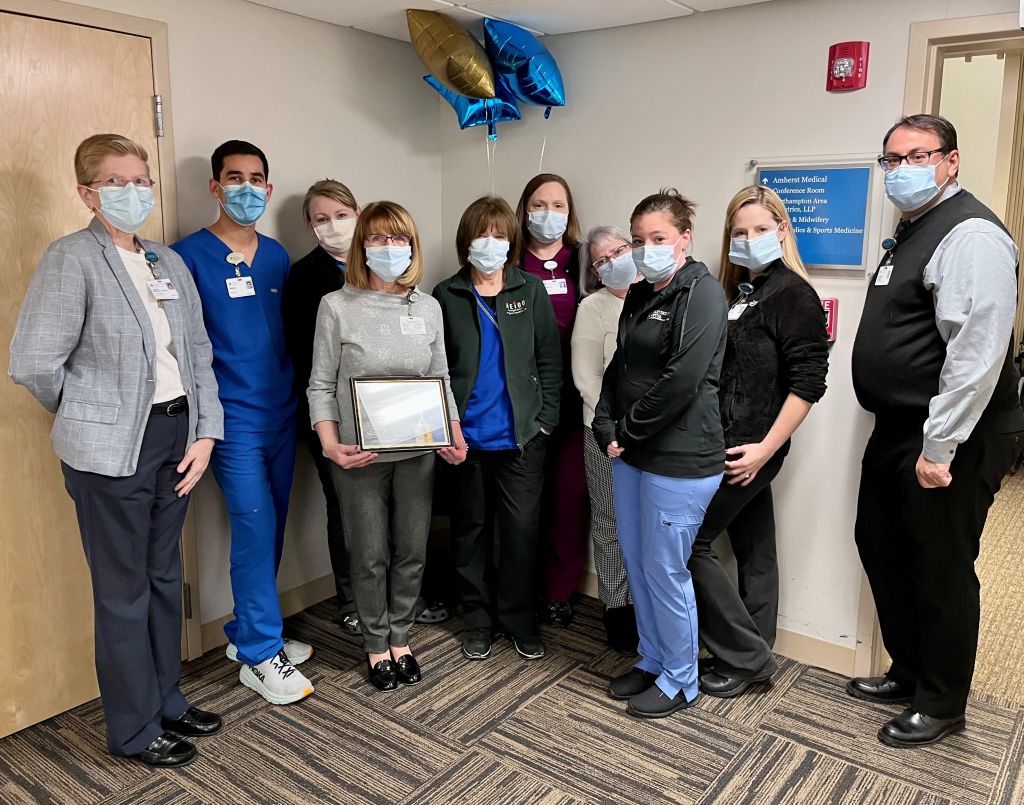 You Make a Difference Award: December 2022
Amherst & Greenfield Urgent Care Team

Congratulations to the Amherst & Greenfield Urgent Care Team on being chosen as the recipient of the December You Make a Difference Team Award!
With the rapid surge of the Omicron virus last year, it was determined the COVID drive thru testing site would need to reopen quickly.
In an effort to use staff to cover the drive thru on the main hospital campus, the Amherst and Greenfield Urgent Care staff were approached about the concept of temporarily closing the Greenfield Urgent Care site during the month of January and consolidating those patients at the Amherst Urgent Care location.
Without hesitation, all staff agreed to the request. Within a week, the drive thru was reopened to accommodate the surge of testing requests. By reopening the drive-thru, patients and employees who needed testing during the Omicron surge had access to same-day testing.
Administrative Director, Clinical Services, Cathy Reed, says she was proud to nominate this team. "This group of staff truly made a difference during this very challenging and stressful time."
Congratulations to the following Team Members
Team Lead: Lisa Rhoades
Matthew Burns
Sabrina Cochran
Audrianna Codling
Naomi Cypher
Alyssa Edwards
Bethany Howe
Melody Malphrus
Jalysa Mawson
Lorraine McCusker
Timothy Mehrmann
Patricia Nadolski
Melanie Poisson
Laura Quattrucci
Mario Ramirez
Idabelle Ratcliff
Sierra Sanborn
Linda Taylor
Cara Vickers
Linda Wheeler
Thank you, Amherst and Greenfield Urgent Care Team, for Making a Difference!
Want to personally congratulate the team members?
Send a Kudos for Coworkers and thank them for their amazing work!
Learn more about previous You Make a Difference Award honorees – click here to read their inspiring stories.