February 13, 2023
NORTHAMPTON, MA – Cooley Dickinson Hospital has officially unveiled its new brand and visual identity, representing its enhanced collaboration with colleagues throughout the Mass General Brigham system.
The hospital began installing exterior signage with the new logo on its main campus last month; installation was completed last week.
"The signs on our building and through our hospital campus visually reinforce that Cooley Dickinson is part of Mass General Brigham, a world-class healthcare system with patients at its center," Cooley Dickinson President and CEO Lynnette M. Watkins, MD, MBA, said.
"Mass General Brigham is committed to delivering local expertise to Pioneer Valley residents. When we combine our resources and talents, we provide a powerful impact for patients and the communities we serve."
Some of the services Mass General Brigham brings to our community include medical oncology, radiation oncology and genetic counseling services through the Mass General Cancer Center; evaluation clinics for liver and kidney transplantation and maternal fetal medicine services. "These are services that are not typically found at community hospitals. We are so fortunate to collaborate with Mass General Brigham to make these and other services available to our community."
At the same time, Watkins notes, Cooley Dickinson has a 137-year history in this community. "Our unique culture and our talented providers and staff make us who we are. And the generous philanthropy we receive from local businesses and individuals remains here to support projects like the renovation of our Childbirth Center and the expansion of our Emergency Department."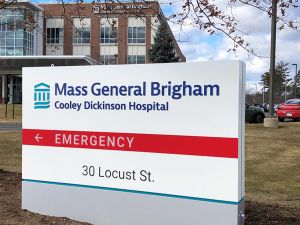 About the Mass General Brigham Brand
In 2013, Cooley Dickinson Hospital announced its affiliation with Massachusetts General Hospital and what was then Partners HealthCare. This year marks the 10-year anniversary of that collaboration. A press release signaling the affiliation highlighted "the benefits of expanded services to the people of the Pioneer Valley" as well as gaining efficiencies through group purchasing and centralized employee training and education."
The Mass General Brigham brand was launched in 2019, representing a promise to build a premier integrated healthcare system with patients at its center. The collective aim is for every patient to receive exceptional care at the appropriate cost, access to world-renowned experts when needed, and experiences that are fully coordinated – all backed by a team of researchers focused on the next great breakthrough or discovery.
The Mass General Brigham brand identity and name leverages the strength of its founding hospitals. The names Mass General and the Brigham are renowned for their long histories of breakthrough research, world-class care, education of the next generation of healthcare providers and a commitment to a healthier community and world. Elevating these names and recommitting to one collective purpose signals to patients that whether they come to an academic medical center, or a renowned specialty or community hospital within our system, their care is delivered by one fully integrated, exceptional team of healthcare providers.
The new logo symbol was inspired by the architecture of the two original hospital buildings of Mass General and Brigham and Women's hospitals — the Peter Bent Brigham building at the Brigham and the Bulfinch Building at Mass General. The four pillars in the new symbol represent the four-part mission of patient care, research, teaching, and service to the community, both locally and globally.
Over the next several months and years, Cooley Dickinson will continue to gradually transition the new brand identity to its community clinics and medical offices, employee ID badges and more.
---
About Cooley Dickinson Hospital
Cooley Dickinson Hospital (cooleydickinson.org) is a not-for-profit, acute care hospital that offers community-based programs and services in Northampton, Massachusetts. A member of the Mass General Brigham System, Cooley Dickinson has been advancing the health of people in the Pioneer Valley since 1886. The organization includes community-based primary care and specialty practices in Hampshire and Southern Franklin counties, and a VNA & Hospice program that provides home health and hospice nursing and rehabilitation visits. We are committed to serving our patients and communities with exceptional, compassionate, and personalized care.