April 26, 2023
NORTHAMPTON, MA – Cooley Dickinson Hospital has a received a $450,000 grant from The Eisenberg Family Trust to provide free services to older adults with Alzheimer's disease and the family members who care for them.
The grant funds the Pioneer Valley Memory Care Initiative (PVMCI), a collaborative program that empowers older adults with dementia to improve their quality of life through personalized support in coordination with their medical care.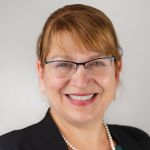 "We are extremely grateful and excited that The Eisenberg Family Trust is again supporting PVMCI," said Dr. Rebecca Starr, director of geriatrics at Cooley Dickinson and supervising geriatrician for PVMCI. "Alzheimer's is a complex diagnosis that takes a huge toll on both patients and their families.  The Eisenberg Family Trust's grant allows us to provide services that too often fall through the cracks, but are critical for maintaining well-being."
PVMCI was founded in 2020 with the support of The Eisenberg Family Trust.  Over the past three years, the program has provided personalized services to nearly 200 patients with dementia and their family members. It has also hosted family support groups and educational programming, training for volunteers at partnering organizations, and convened local nonprofits to coordinate services. All of these activities were made possible through The Eisenberg Family Trust's grant funding and in part by a grant form Highland Valley Elder Services through funding under the Federal Older Americans Act.
With the renewed grant funding from The Eisenberg Family Trust, PVMCI can deepen support for patients with Alzheimer's and their families.
"The impact is incredible.  We hear from families every day about how important our support is for making their daily lives better," Starr added.
You can learn more about the Pioneer Valley Memory Care Initiative at cooleydickinson.org/programs-services/geriatrics/pioneer-valley-memory-care-initiative/.  To donate to support this free program, call the Development office at 413-582-2256 or make a gift online by visiting www.cooleydickinson.org/givenow, selecting "Other" for your designation, and writing in "PVMCI."
---
About Cooley Dickinson Hospital
Cooley Dickinson Hospital is a not-for-profit, acute care hospital that offers community-based programs and services in Northampton, Massachusetts. A member of the Mass General Brigham System, Cooley Dickinson has been advancing the health of people in the Pioneer Valley since 1886. The organization includes community-based primary care and specialty practices in Hampshire and Southern Franklin counties, and a VNA & Hospice program that provides home health and hospice nursing and rehabilitation visits. We are committed to serving our patients and communities with exceptional, compassionate, and personalized care.