July 12, 2023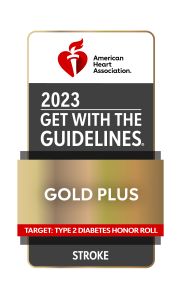 Cooley Dickinson Hospital has received a 2023 "Get With The Guidelines" award from the American Heart Association, for excellence in treating stroke. The honor was given with "Gold Plus" distinction – the highest level of the award given by the organization.
The stroke award recognizes Cooley Dickinson's commitment to ensuring stroke patients receive the most appropriate treatment according to nationally recognized, research-based guidelines – ultimately leading to more lives saved and reduced disability.
"Cooley Dickinson is committed to improving patient care by adhering to the latest treatment guidelines," said Dr. Sari Miettinen, Chief Medical Officer. "Get With The Guidelines makes it easier for our teams to put proven knowledge and guidelines to work on a daily basis, which studies show can help patients recover better. The end goal is to ensure more people in our community experience longer, healthier lives."
Stroke is fifth-leading cause of death, and a leading cause of disability, in the United States. A stroke occurs when a blood vessel that carries oxygen and nutrients to the brain is either blocked by a clot or bursts. When that happens, part of the brain cannot get the blood and oxygen it needs, so brain cells die. Early stroke detection and treatment are key to improving survival, minimizing disability, and accelerating recovery times.
"We are pleased to recognize the leaders and teams at Cooley Dickinson for a strong commitment to care," said Dr. Clyde W. Yancy, national chairperson of the American Heart Association's heart failure systems of care advisory group. "Hospitals that participate in Get With The Guidelines quality improvement programs often see better patient outcomes, fewer readmissions and lower mortality rates – a win for health care systems, families and communities," he said.
Each year, program participants qualify for the awards recognitions by demonstrating how their organization has committed to providing quality care for patients. In addition to following treatment guidelines, "Get With The Guidelines" participants also provide education to patients to help them manage their conditions at home.
---
About Cooley Dickinson Hospital
Cooley Dickinson Hospital is a not-for-profit, acute care hospital that offers community-based programs and services in Northampton, Massachusetts. A member of the Mass General Brigham System, Cooley Dickinson has been advancing the health of people in the Pioneer Valley since 1886. The organization includes community-based primary care and specialty practices in Hampshire and Southern Franklin counties, and a VNA & Hospice program that provides home health and hospice nursing and rehabilitation visits. We are committed to serving our patients and communities with exceptional, compassionate, and personalized care.