July 31, 2023
Esophageal Cancer Story and Treatment at Mass General Brigham and Cooley Dickinson Hospital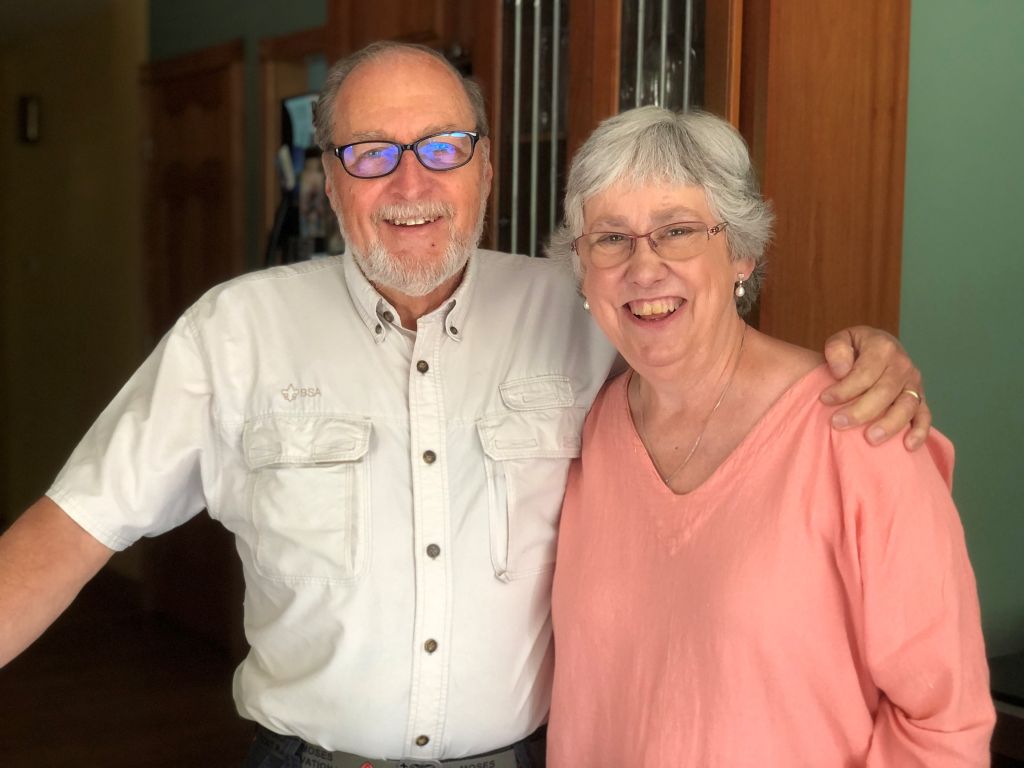 "The day after I retired, my wife, Joyce, and I bought an RV to travel across the U.S. and Canada," said Steve Roberts, a Vietnam-era Navy veteran, former business owner, Rotary volunteer, and lifelong resident of the Holyoke-South Hadley area.
"We were excited to begin our travels and a new stage of life. Joyce started a diary to keep track of all our trips. Often, we don't have a destination in mind but choose to just wander and discover something new."
Steve had an earlier foray into retirement at age 50, when he closed his injection molding business. However, Joyce was not ready to leave her position as a nurse at Cooley Dickinson Hospital, (where she had gone to nursing school and ultimately worked a remarkable 47 years), so Steve decided to start a new job at the Boy Scouts of America Western Massachusetts Council.
"Initially, I planned to stay two to three years, but somehow I stayed 15," Steve said with a smile. At that point, the couple was ready to hit the open road. They began traveling up to four months each year, often heading south when the temperatures in the Pioneer Valley began to drop. However, in October 2021 as they were preparing for a trip, they were confronted with an unexpected detour in life's journey.
Steve, whose warmth, energy, and optimism come across immediately, recalled, "I thought it was just a cough, but it progressed to pain when I swallowed." He met with his primary care provider, Paul Sahd, MD, at Hadley Family Medicine, who referred him to a specialist for an endoscopy. Dr. Sahd called him the same day as the procedure, asking Steve to come in to discuss the results. After more testing, he received a diagnosis of esophageal cancer with a recommendation to begin radiation and chemotherapy as soon as possible.
"Right away, Cooley Dickinson and the Mass General Cancer Center started to build a team devoted to my care," said Steve. "I knew from the start that I had experts—oncologists, surgeons, nurses, and many others—all joining together and in constant communication on my behalf."
As a loving wife of more than 50 years, as well as an experienced nurse, Joyce was deeply involved in Steve's care. She was well aware of Cooley Dickinson's ability to deliver high quality care close to home, and she and Steve had even welcomed their three children and two of their grandchildren at Cooley Dickinson Hospital.
"I knew Steve had the best teams, the best doctors, and the best hospitals," said Joyce. "The connection to Mass General Brigham meant we could take care to the next level if needed, which, in Steve's case, was critical."
In December 2021, Steve began radiation and chemotherapy at Mass General Cancer Center at Cooley Dickinson Hospital in Northampton under the care of radiation oncologist Genevieve Maquillan, MD, and medical oncologist Orion Howard, MD.
Unfortunately, at the end of the month, he hit another unexpected turn in the road. He had been feeling fine and working on his son's home addition when he suddenly became ill. He attributed it to the flu. When he didn't feel well enough to get out of bed the next day, Joyce knew it was more serious.
"Steve is the kind of person who is always upbeat and on the go," she said. Joyce drove him directly to the Cooley Dickinson Emergency Department; Steve had had a stroke. An additional care team rallied around him. In January, Steve began occupational and physical therapy at Cooley Dickinson's Rehabilitation Services clinic in Southampton. "I got great results," he recalled.
At the urging of Dr. Howard, Steve resumed his radiation and chemotherapy in February. Then in May 2022, he traveled to Boston, where world-renowned surgeon Michael Lanuti, MD, director of Thoracic Oncology, division of Thoracic Surgery and Thoracic Surgeon Liaison to Mass General Cancer Center, performed a complicated surgery to remove the cancer and reconstruct his esophagus and stomach areas.
"It was an eight-hour surgery," Steve said. "I got to sleep through it—it was tougher on Joyce! She and our daughter stayed at an MGH facility close by the hospital, which was a big help. My nurses, who were unbelievably attentive and hardworking, spent a lot of time with me and Joyce, instructing us about all my new tubes and wires."
After eight days, Steve returned home to South Hadley to continue his lengthy recovery, which included learning how to eat all over again. The early days were rough, Steve and Joyce recall, but Steve will never forget how connected he felt to Dr. Lanuti. "It was a Saturday when I got home. I was barely in the door and the phone rang. It was Dr. Lanuti."
Dr. Lanuti was also close by. Steve was able to see Dr. Lanuti in his office in Florence and did not have to travel to Boston for follow-up visits. Throughout his care, Steve noted that all of his nurses and physicians were in constant communication, coordinating his care so that he received the right care at the right time at the right place.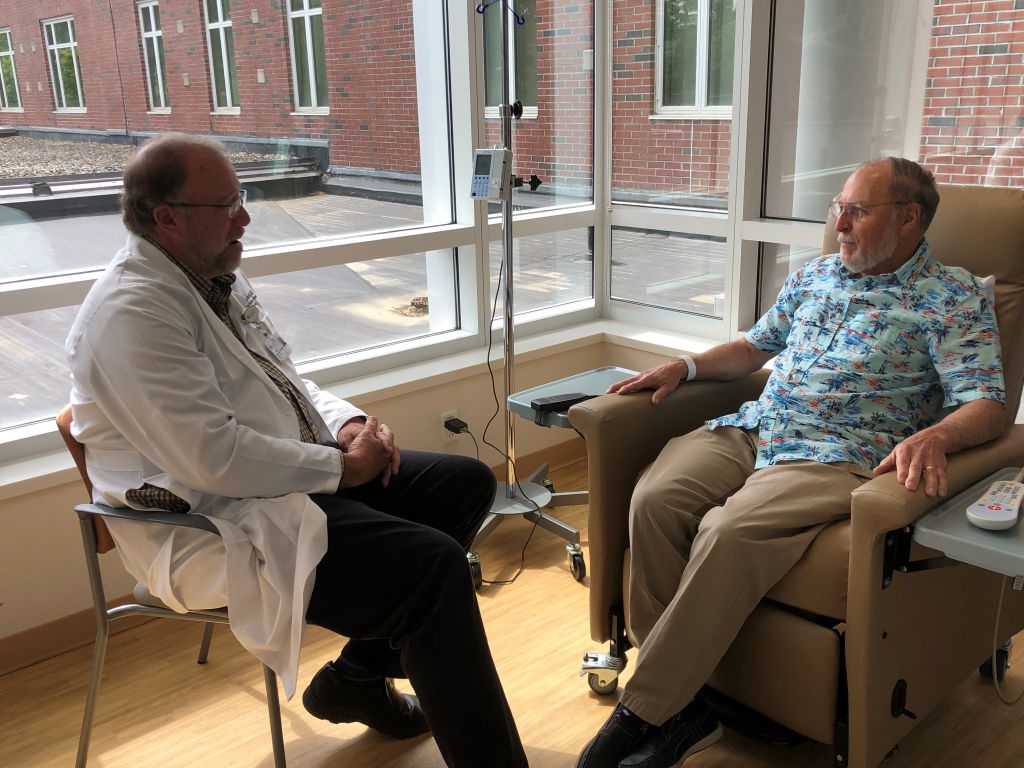 "At each Mass General Brigham location, everyone took the time to talk with me and listen to any concerns I had," said Steve. "I was lucky to have the advice of such experts, plus access to a groundbreaking clinical treatment," Joyce added. "Cooley Dickinson's connection to a world-leading health care network was essential to getting Steve the best care possible."
Asked about that network of care, Dr. Howard describes it as seamless and meaningful for the patient. "Dr. Lanuti met Steve here, before his surgery, and made his recommendations for surgery in Boston. Leading up to surgery, we geared Steve's treatment around Dr. Lanuti's recommendations.
Added Dr. Howard, "It's no longer that we give you care in Northampton and then you will get care in Boston and then you will come back to Northampton. Being part of this network makes it a continuous process."
In July 2022, Steve began a year-long treatment of adjuvant immunotherapy. "Dr. Lanuti explained that this new medication could train my immune system to recognize and destroy even microscopic cancer cells," Steve said. He also mentioned how much he appreciated that his medical oncologist Dr. Howard was able in October to move his twice-a-month treatments to once a month because he knew that mattered to his patient (who was watching those Pioneer Valley temperatures begin to drop).
"The fact that you can receive therapies in your backyard that are guided by an academic, Harvard-based medical center like Mass General is really the best of both worlds," noted Dr. Howard. "It's treatment locally that is world-class and surgery with a world-class thoracic surgeon when you need it."
Naturally kind and upbeat, Steve is now sharing what he learned along the road of life. "Dr. Lanuti saved my life," stated Steve. "I'm hopeful my story gives others facing a tough diagnosis the hope they need to keep moving ahead. Everyone needs hope.
"I'm so grateful for the expert care I received. Now, thanks to that amazing team, Joyce and I can once again hit the road. We have several trips planned, including our favorite annual outing with our two grandsons to Hershey Park." Joyce will have her diary in hand, cataloging where they wander, as Steve steers the RV – and the years ahead – toward new adventures with characteristic cheer and optimism.