October 25, 2023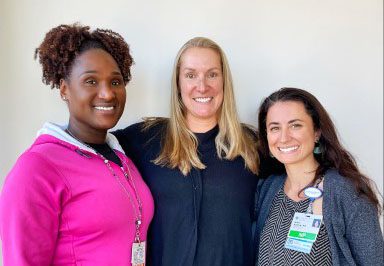 Cooley Dickinson Hospital has expanded its bariatrics services to offer anti-obesity medication management.
The medication management program is ideal for patients with a BMI greater than 27, and obesity-related complications and patients who have a BMI over 30.
"CDH has a truly comprehensive Bariatrics and Weight Management program now," said nurse practitioner Sofia Buford, NP,  who is certified in obesity medicine from the Obesity Society. The program is offering medication management to patients as part of Cooley Dickinson's evidence-based, high-quality nutrition and bariatrics program. The program also features experts with experience in managing obesity in patients with co-morbid eating disorders.
"Our team is really special," said Buford. "We each bring a wealth of knowledge, experience and passion for this work. Obesity is a complex, chronic and relapsing neuroendocrine disease with behavioral components. There are various treatment options, both surgical and non-surgical. Each patient who sees us will receive individualized, compassionate care."
Dr. Ursula McMillian, the team's bariatric surgeon, championed the growth of Cooley Dickinson's program and noted that "we celebrate our patients' successes with them." Rebecca Rand, the team's dietitian, works with patients to help them make healthy food choices and has experience in physical training as well.
"This is a really exciting time to work in obesity medicine. There are several new medications on the market and more coming down the pipeline. We understand obesity as a disease much better than we did in the past, which means we can now offer our patients various treatment approaches," added Buford.
For more information on the program, please call 413-584-4637.