November 13, 2023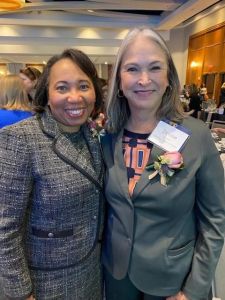 Cooley Dickinson Hospital was honored as one of the top women-led businesses in Massachusetts during an award ceremony last week.
The hospital, which is led by president and chief operating officer Lynnette Watkins, was ranked #21 on the list of 100 businesses statewide. The list was assembled by The Women's Edge, a non-profit organization that works to advance women in leadership positions. It was featured in the Boston Globe Magazine's annual "Women & Power" issue.
"Being acknowledged among the top 100 women-led businesses in the state is a testament to the dedication of Cooley Dickinson Hospital, and our system Mass General Brigham, to transforming the healthcare landscape with an emphasis on inclusivity and innovation," said Watkins. "Recognitions like this one fuel our commitment to advancing the quality of our care across the Pioneer Valley."
The Women's Edge ranks organizations by examining a number of variables including their revenue, diversity, operating budget, number of employees, and innovative projects.
The announcement was made November 3 at the Boston Marriott Copley Place, with Mass General Brigham serving as presenting sponsor. Click here to view the entire list.