Benefiting Our Community: Keeping Us Healthy
Cooley Dickinson encourages healthy lifestyle choices by helping to make the healthy choice the easier choice. We work with community partners to promote environments that support health including infrastructure, policy, health equity, and economic and social conditions.
We provide educational outreach and support initiatives to improve access to health care for vulnerable populations.
How Healthy Are We?
Helping local residents live healthier lives and access key services is central to Cooley Dickinson's mission. Every three years, Cooley Dickinson conducts a community health needs assessment. The assessment helps Cooley Dickinson and other agencies better understand local health needs and priorities so that we can plan programs and community health interventions.
From the most recent Community Health Needs Assessment, and appendix, conducted in 2019, the following priority areas were identified:
Culturally sensitive care/health literacy/language barriers
Transportation for isolated rural seniors
Mental health access
Substance use disorders treatment and prevention
Chronic Disease Supports
Food Systems
A detailed Hampshire County food systems assessment was completed in 2017. Click here to view assessment appendices.
2020 Older Adult Program Funding Opportunity:
The Cooley Dickinson Healthy Communities Committee is offering funding to community-based non-profit organizations and municipalities that serve older adults. To download an application for funding, click HERE.
To view other reports, click on the appropriate link below:
---
Getting to Healthy: Report Finds Opportunities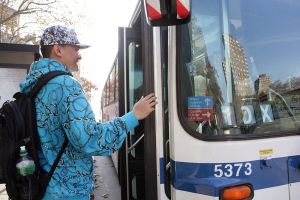 In 2015, Cooley Dickinson, United Way of Hampshire County, and the Pioneer Valley Planning Commission released results of a study called Getting to Healthy. The report examined the transportation barriers that Hampshire and southern Franklin county residents face when accessing health care services. In addition, the study found that access to transportation suggested a larger opportunity: Can improving a transportation network also promote a better quality of life and overall health for area residents?
A Focus on Possible Solutions
Findings in Getting to Healthy suggest that the problem of access to care "evolved into an opportunity to research and propose improvements to patient care by recommending modifications to not only the transportation system but also to the health care delivery system."