Always There
Since 1904, the Cooley Dickinson Auxiliary has supported the hospital in its commitment to provide exceptional health care to our community. In 2016, the group's membership voted to change the name to "The Friends of Cooley Dickinson."
This dedicated, enthusiastic community is committed to supporting patient services, advocating for the hospital and raising funds, and has been invaluable as a resource for the hospital. In just the past three decades, the Cooley Dickinson Auxiliary has donated close to $2.5 million for significant projects, and, with your help, can continue to do so. Major donations have included funding for Nursing Education; Midwifery Care; the new Breast Center, the Mass General Cancer Center at Cooley Dickinson Hospital; renovation of the Emergency Department and the 2007 construction of the North Building, including the Kittredge Surgery Center and the Joint Replacement Center.
To join the Friends of Cooley Dickinson, please download, print and mail this membership form with your check, payable to:
The Friends of Cooley Dickinson
c/o Cooley Dickinson Hospital
30 Locust Street, Northampton, MA 01060
For more information call 413-582-2882.
---
FREE

 

HOLIDAY

 

GIFT

WRAPPING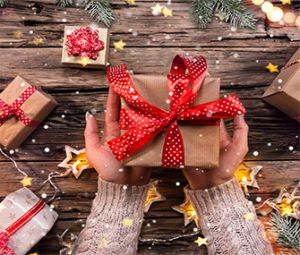 Where:
The Baker's Pin, 34 Bridge Street, Northampton (across from the Post Office in the Talbot's Plaza)
When:
Saturdays
Dec. 15 and 22, 11 am – 5 pm
Sundays
Dec. 16 and 23, noon – 5 pm
Monday-Friday, Dec. 17-21, 11 am-5 pm
Courtesy of Friends of Cooley Dickinson. We will gladly wrap gifts purchased from any store.
DONATIONS BENEFIT PATIENT SERVICES AT COOLEY DICKINSON.