November &

December

in the Galleries
The following artists will be exhibiting in the corridor galleries at Cooley Dickinson Hospital and the the gallery at 22 Atwood Drive during the months of November and December.
NORTH & WEST GALLERY
Valerie Basset
Valerie Basset
Valerie Bassett, a longtime member of the Old Deerfield Painting Group and a frequent participant in the Cooley Dickinson Art and Healing Program, will be sharing her wide range of images in both galleries this month.
Valerie has been working as an artist and instructor in mixed-level painting and calligraphy classes in the Northampton and the Berkshire, MA area for several years. She is a member of art groups in the Pioneer Valley and in the Berkshires. She displays her work in private and public shows in the area and my work hangs in several private and public collections. She also works as a freelance calligrapher as a member of the Mass Scribes.
Artist website: Valerie-bassett.pixels.com
Contact: valeriebassett@comcast.net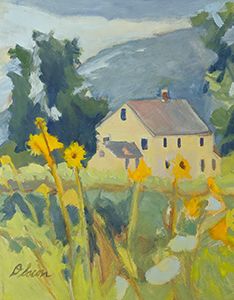 ATWOOD GALLERY
Deborah Sacon
New Plein Air Work
Deborah Sacon creates beautiful plein air paintings of both the Pioneer Valley and the environs of Maine. Her oils and watercolors have been described as "ethereal," "joyful," and "expressionistic." A graduate of the University of Massachusetts, Amherst, she has also studied with Walter Kamas.
Artist website: deborahpaints.com
Contact: debsacon@gmail.com