May in the Galleries
The following artists will be exhibiting in the corridor galleries at Cooley Dickinson Hospital and the the gallery at 22 Atwood Drive during the month of May.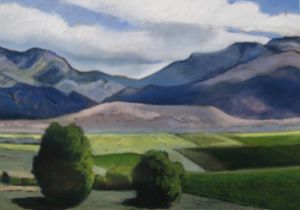 NORTH GALLERY
Janet Palin
New Landscapes
Palin's stunning pastel landscapes reflect her belief that the world's beauty is present in everything from the perfection of an insect to the majestic movement of clouds. Beginning by focusing on landscapes she found in Iceland and New England, she now spends time exploring and depicting the raw beauty she finds in the landscapes of the American West, including New Mexico, Utah, and Montana.
Website: www.janetpalin.com
WEST GALLERY
Meadowbrook Arts Camp
Emergence/See
EMERGENCE/SEE (sponsored by Northampton Arts Council)  is the inaugural show of the Meadowbrook Arts Camp. Envisioned by two residents of the Meadowbrook Housing Complex in Florence MA, the camp was founded on the belief that each person IS art. What we do with paint, clay, music, pen or dance is an extension of ourselves. The art works are conversations we have with our world and with each other. Each child who participated in the MAC had the opportunity to go on a journey into and through their own emerging "voice." The paintings and photographs are vivid and vibrant, contemplative and connected.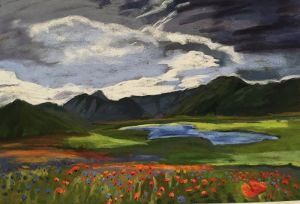 ATWOOD GALLERY
Elizabeth Slade
Turn Towards the Living
"Anything you can do, or dream you can, begin it. Boldness has genius, power and magic in it."     ~ Goethe
This is a show about living, about showing up boldly, unequivocally. It's an exploration beyond what the eye can see in a landscape into what else lives there. It is about possibility, allowing subtle colors in nature to live boldly on paper.
Elizabeth Slade is an emerging artist who works in chalk pastel. She studies landscapes and seascapes, working to bring them to life for her viewers. She has had a number of local shows including at the Hosmer Gallery (fall 2016), the Nash Gallery (summer 2017) and the ECA in a shared show (spring 2018).