January &

February

in the Galleries
The following artists will be exhibiting in the corridor galleries at Cooley Dickinson Hospital and the the gallery at 22 Atwood Drive during the months of January and February.
NORTH GALLERY
Brattleboro-West Arts: Group Show
Brattleboro-West Arts
Brattleboro-West Arts was founded in 2009 by neighbors who recognized the vibrant creative community that exists in the watershed of the Whetstone Brook west of downtown
Brattleboro. Since then, membership has grown to include about thirty professional artists and craftspeople, working in many different media, who gather each month to share a meal, to educate and encourage each other, and to explore ways to enrich the artistic life of southern Vermont, and the surrounding area. We are very grateful to have this special group participate in the Art and Healing program a Cooley Dickinson Hospital.
Artists' website: www.brattleboro-west-arts.com
WEST GALLERY
Maggie Martin
Birds and Wildlife of Berkshire and Hampshire Counties 
Martin's beautiful photographs are a wonderful break from the cold and ice now settling on the Pioneer Valley. She has spent many years searching for and documenting the beauty of local animal life, especially the wide range of birds that make this area their home.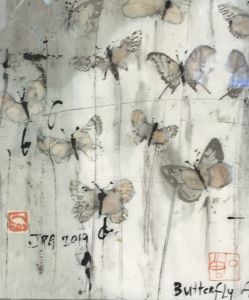 ATWOOD GALLERY
Jay Alexander
Looking East – A Personal Interpretation
Jay Alexander's beautiful brush paintings present reinterpretations of several themes in classical Chinese painting: the plum, orchid, flowering plants, birds, and landscape. These subjects are expressed through his deep attachment to the natural world, where the essential truth of a painted object is the operation of the spirit (Chi) in life movement (Zheng tung). His work has appeared in many literary/art publications—The Shanghai Literary Review, Remembered Arts, The Hopper Magazine and the A3 Review.