You Make a Difference
We have many Cooley Dickinson employees that live the values of the organization and are true role models for others. The You Make a Difference Award recognizes those individuals and highlights the difference they make in the lives of patients & families, coworkers, and/or in the community. Nominees live up to the values of our organization by Demonstrating Compassion, Fostering Collaboration, Acting with Integrity, Upholding Quality, and always Showing Respect.
The You Make a Difference Award is presented to twelve individuals and four teams throughout the year, whom are selected based on their colleagues nominations. Individual winners are announced monthly, and teams are announced quarterly. This award is unique to Cooley Dickinson Health Care and celebrates our employees for making a difference every day!
Click here or on the link below to read about recipients of the You Make a Difference Award.
---
Some of the ways Cooley Dickinson employees are making a difference, In-House and in the community:
---
Physical Therapist Honored with Stavros Award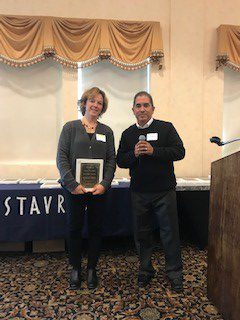 Physical Therapist Stacy Troy received the 2018 Paul Winske Access Award from the Stavros Center for Independent Living. Stacy, who works at the Hadley Rehabilitation clinic, was nominated by one of her patients for providing compassionate care to persons with disabilities.
"Stacy has been with us for over 15 years," says Andrea Noel-Doubleday, Cooley Dickinson's Assistant Director of Rehabilitation Services. "I think this recognition is really about her compassionate care-giving, and about her going above and beyond for her patients with disabilities, to ensure that they are comfortable throughout their rehab with us. We are very proud of her."
Troy, pictured here with Manuel Morales from Stavros, was honored at the luncheon and awards ceremony last week. She was the only health care professional recognized at the Awards Ceremony.
Congratulations Stacy!