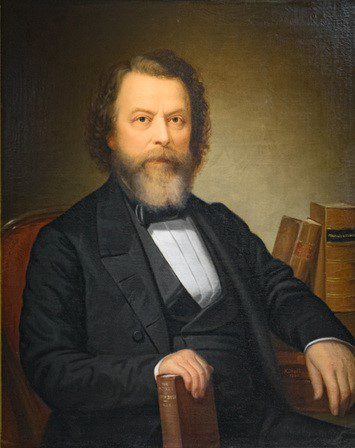 History
Cooley Dickinson has been advancing the health of people in the Pioneer Valley since 1886, when the Hospital opened its doors to patients on New Year's Day. The hospital was founded by Caleb Cooley Dickinson, a descendent of Nathaniel Dickinson, the first settler in Hatfield, MA, and a cousin of poet Emily Dickinson. Caleb Cooley Dickinson (known as Cooley Dickinson), son of Aaron and Experience (Phelps), was born in Hatfield on November 25, 1804, and died, unmarried, on September 16, 1882.
Cooley, who preferred his middle name to his first name, and his brother, Aaron, inherited the family farm in Hatfield when their father died. The farm was so encumbered with debt that when the brothers started they were almost discouraged, but they resolved to work until the debts could be paid. This was accomplished in due time; industry and the economy were growing, and this enabled them to accumulate a fortune in later years.
Cooley became a prosperous farmer, managing the homestead with his brother, Aaron. He was a knowledgeable and savvy entrepreneur who invested wisely, building the bulk of his fortune through the strategic purchase of stocks and bonds. In his will, he left $97,000—the bulk of his net worth—to found Dickinson Hospital in Northampton, in the interests of the towns of Northampton, Hatfield, and Whately.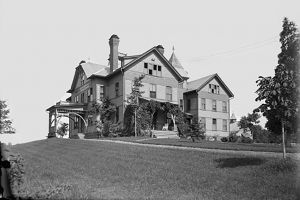 The post-war period had been one of expanding needs, growing out of diverse activities. At this time, the city of Northampton boasted 13,000 residents and though it was still a predominantly agricultural community, it had slowly but steadily become the business and industrial center for the surrounding area. The Civil War, with its mechanical and technical needs, had provided the impetus not only for population growth, but for industrial development. There was an awareness of the growing number of hospitals and a rising population creating even greater health needs.
The nation's wartime hospitals, estimated at 68 to 150 in number, had been inadequate in size and function. By late in the century, upwards of 1,900 hospitals opened. Leading citizens of Northampton, as well as their doctors, knew of the availability of hospital facilities elsewhere and were eager to introduce them to this area. Women who worked with the sick and poor and ran the "Home for the Friendless demonstrated the necessity of a Dickinson Hospital."
In 1881 when Caleb Cooley Dickinson, then an aging and sickly man, mentioned to his doctor, Dr. James Fay, his desire to bequeath his rather sizeable fortune to aid the poor, Dr. Fay was quick to suggest a hospital. When his friend and lawyer, George Hubbard, expressed like sentiments, Mr. Dickinson had his will drawn up to the effect that the bulk of his estate be put in trust "to establish and put in operation in the town of Northampton a Hospital for the sick poor."