Mes

sag

es

of S

up

po

rt
We are collecting messages of support for our providers and staff. To share your thanks, words or pictures, you can send an email to feedback@cooleydickinson.org or visit our Facebook page and comment on a post.
You can also make donations to Cooley Dickinson Healthcare
---
GIFT SHOP OFFERS FEBRUARY/VALENTINE'S SPECIALS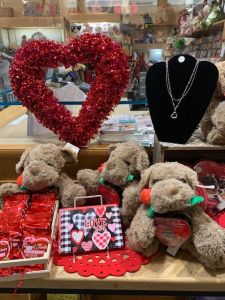 The Cooley Dickinson Gift Shop is offering 15% off any single item throughout the month of February, as a thank you to all Cooley employees for all their hard work for the Organization. A coupon will be handed out to employees when they come into the Gift Shop, show their badge or make a purchase.
Need a Valentine's gift? The Cooley Gift Shop has a lot of love to give!
 Gift Shop February Hours: Monday 10 am – 2 pm; Tuesday thru Friday 10 am – 3 pm.
ALL  CAPS
---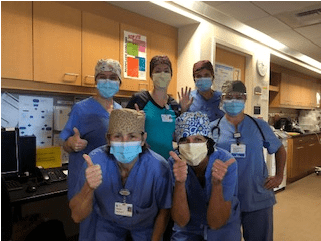 Cooley Dickinson has many, many people to thank for their contributions over the past 9 months from individuals who create signs of support to kids who send pictures of themselves smiling and holding self-crafted #HeartsforHealthcareWorkers to businesses who have donated everything from lunches to lotions to real personal protective equipment (PPE).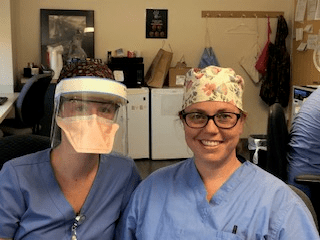 Today, we'd like to thank Anne Lafontaine, a retired RN who spent most of her career as an occupational health nurse and mother of current Cooley Dickinson RN Sheryl Lafontaine. For many months now, Anne has turned herself into a one-woman garment district, personally sewing over 100 caps for clinical workers including nurses, CNAs, rehab therapists and workers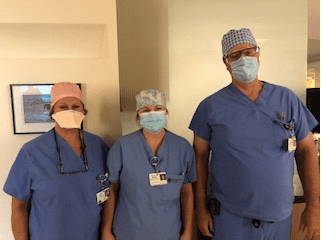 in the front-line RIC (Respiratory Illness Clinic) that keep their heads covered in COVID/isolation rooms. Anne donates her time and the cost of materials, and finds meaning in doing her part to help clinical staff. Thank you Anne & Sheryl for all you do!
---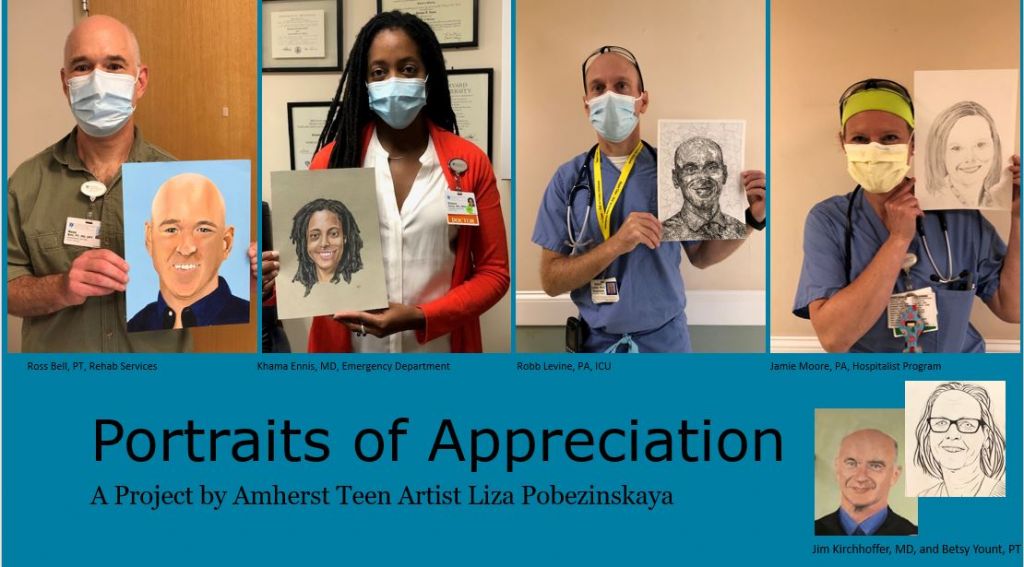 Cooley Dickinson providers were honored recently by teen artists in Amherst, organized by Liza Pobezinskaya. You can see all of the portraits close-up on our Facebook page by clicking HERE.
---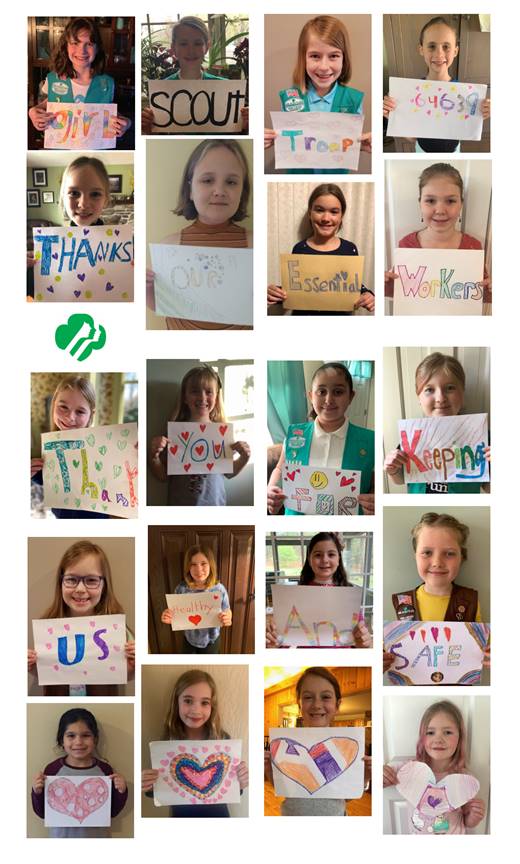 Many thanks to all of you from Girl Scout Troop 64639 of Easthampton!
---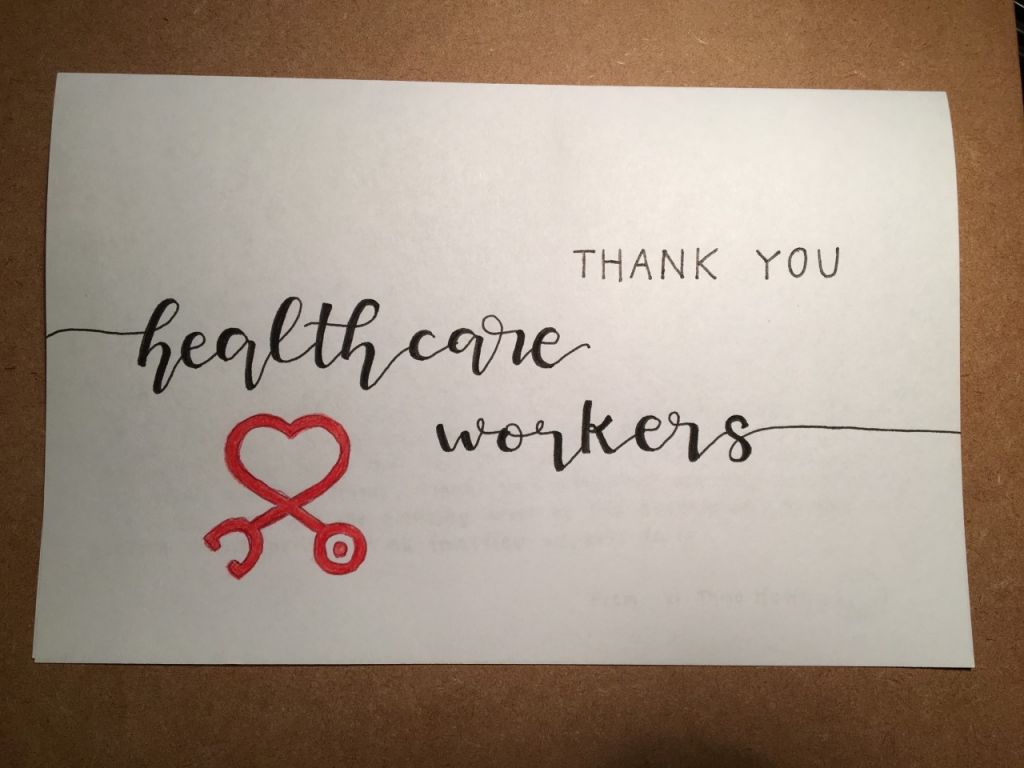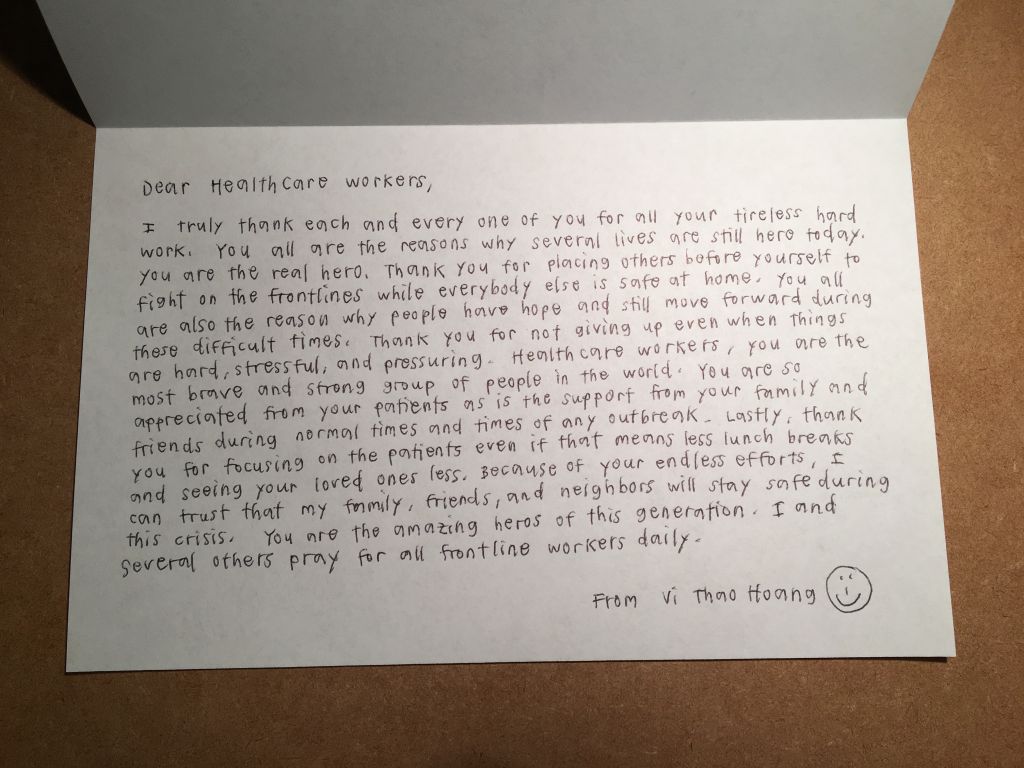 ---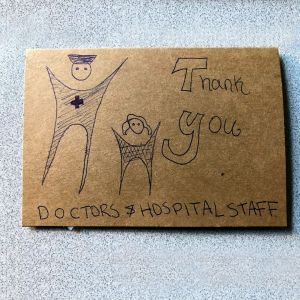 Just want to express my heartfelt thanks and appreciation to the staff at Cooley Dickinson for getting us through this Covid year. Sending lots of support and virtual hugs for the winter ahead. I'm thinking of you every day.
Jus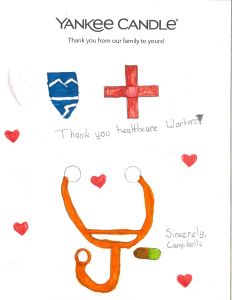 t a small token of gratitude for the enormous acts of heroism at Cooley Dickinson. Your Yankee Candle family is cheering you on! Thank you for everything you do–we're proud to be your Western Mass neighbors. <3

"Thank you for being there when I needed you most, not just to save lives but to provide a comforting hug, when my mom lost her dad and lost her best friend 5 years later. I'm sure you are all very busy right now, but I just wanted to thank you for your bravery during this unforgettable pandemic."
Northampton High School student
Thank you to all healthcare workers and fellow FF/EMS. Appreciate all you do !!!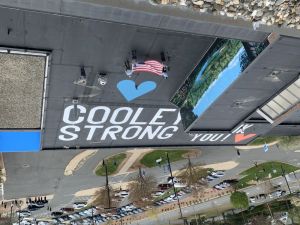 Thank you..we appreciate all you do ????
Thank you to all my colleagues at Cooley !!
I brought a newly settled immigrant your ER this week. This pregnant mother from a refugee camp in Rwanda walked through your doors scared and unsure. She was greeted with with kindness and love by your staff. She left feeling welcomed and safe. Thank you so very much!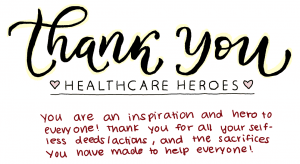 American Prayer
God, I know life will get better, I have faith in the future, to fuel my day, to do better, be better.
I will never lose the light, that you shine on me. I will stay true to my faith, and build on my beliefs.
I know I can count on you for strength, in my time of need.I will give my best, for tomorrow and the days that succeed.
I will become a lifter of spirit, to those in need.
Where I go from here, is where I believe.
Watch me grow and begin again.
Amen.
Written by Dennis Golas
South Hadley, Massachusetts.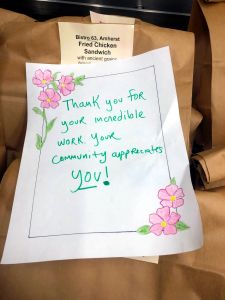 The bravest and the best anywhere!
Thank you for your amazing dedication and skill.????????
We are thankful for your commitment to caring for the community! ❤️
Rockridge Retirement Community
The outpour if support from the community is amazing. We are here for you!!! And we feel you supporting us! Thank you❤️????
We're so so lucky to have you! ❤️
Thank you❤️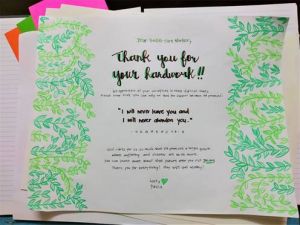 Dear Sir/Ma'am
Good Day! I hope this message finds you well. I am Paula Pantaleon, one of the volunteers who are engaged in a worldwide work of sharing practical and encouraging thoughts to as many families as possible. I am from the Philippines but browsing through the internet, I read about your Messages of Support campaign from the website cooleydickinson.org. When I read the about it, I immediately jumped at the opportunity to send a personal greeting/encouraging card for the Health-Care Workers. It's the least in my means that I can do to show my gratitude for their earnest efforts. I hope your team can forward it to them.
Thank you for your time.
Please stay safe and healthy.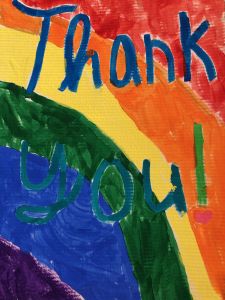 Best nurses ever!!!!
Respect for medical workers????????
Way to go Cooley!
We have great staff. And a great community.
We do have the most amazing community supporting the CDH healthcare teams❤️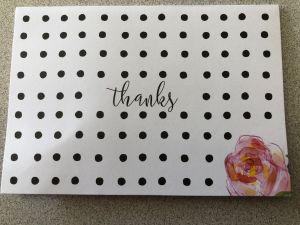 Thank you so much for what you are doing for our world. There are not nearly enough of us saying the thank yous you deserve. I go to The Oakridge School in Texas and my entire school thanks you!!!
Hello,
I just wanted to give a big thank you to everyone (doctors, nurses, concierge, security, and housekeeping) who are the heroes of America right now. Every second you are working is deeply appreciated!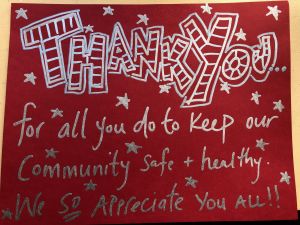 My name is Stanley Gemmell and I am a poetry writer and essayist with two younger siblings.  A sister Michelle and a brother Jesse.  Michelle is a mother of three and Jesse is part of a nursing home staff in Rhode Island.  When I think of the amazing bravery and dedication both of them manifest daily to ensure the well being of those entrusted to their care it fills me with admiration and deep gratitude.  On behalf of all thinking, feeling, compassionate people I extend deepest respect and thanks for all the work municipal medical staff of every kind perform for the benefit of us all.
Thank you for all you do!!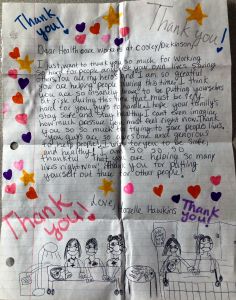 A thousand thank yous for all you do to help us all through this pandemic.
Staff truly appreciate the support being shown by our community – we are in this together and will get through it by being there for one another.
Thank you , stay well
We have the most supportive community who should be proud of themselves as well. One step at a time and we'll safely get through this together ❤️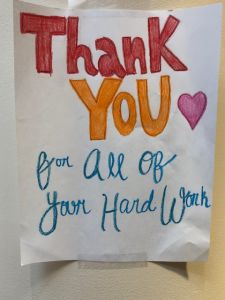 You guys are awesome ????
Thank you for all you do.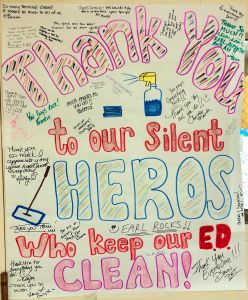 Thank you!
Thanks for all you do!????
Stay strong Cooley Dickinson family
????????????????????????????????????????????????????????????????????????
Thank You to all Of You <3<3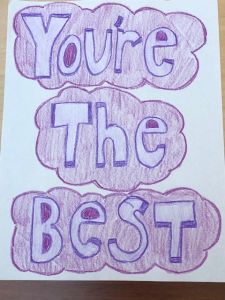 Thank you for all that you do for our patients and our staff. I appreciate you all❤️
Have been a frequent patient at CDH. BEST EVER in all regards, nursing, housekeeping, mds. I am in awe of your bravery, dedication and compassion. My heartfelt thanks!
I was just released from Cooley today after getting admitted on Friday. Nothing COVID related but the nurses and CNA's were amazing and took great care of me. I know their jobs are more stressful than ever right now but you never would have known it. Thank you!!!
Thank you for the wonderful job you are doing!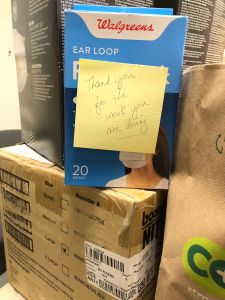 Thanks for caring for the whole person..physical and mental! Keep up the good work!!
Thank you for all you do!!!
Your all pretty remarkable !! Thank u
Thank you all for your dedication to patients. Blessings and be safe.
Thank you all!!!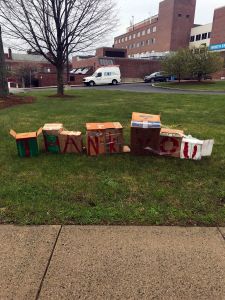 Best hospital, best nurses! Best doctor!! Best all around! Love this place.
Thank you Cooley staff. Great hospital. Stay safe and well.
Hello! My name is Aileen. I felt the need to thank as many hospital staff/nurses as possible today for their service. I know this is a stressful time, but know that you're making a difference with your hard work and bravery. We are very grateful that you are all here to save lives, and put the world back on its feet. You are very appreciated. Stay healthy, and keep up the hard work! 🙂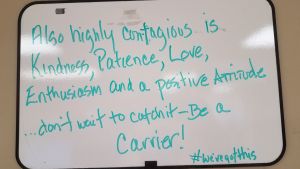 Thank you to all the workers on the front line and any type medical staff for keeping the hospitals running. It is truly the most selfless act to face the worlds problems head on to try to keep everyone else safe. Thank you and your hard work and bravery does not go unnoticed!
This is amazing – so thankful for the wonderful staff taking such great care of our community!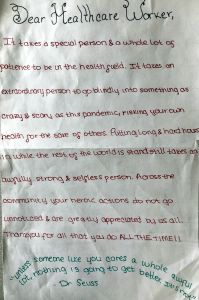 Sending thanks and warm thoughts to all of you who are working through these frightening times, both medical staff and the support personnel, especially my friends in transportation????. Please stay safe.  Miss you all and I look forward to getting back to my Tuesday morning mail deliveries.
Marianne Gambaro, Volunteer
Some of the most amazing compassionate and strongest nurses I have ever had the privilege to lead. God bless them keep them safe and strong. Cooley proud! ❤️????❤️????
Angela Belmont, Chief Nursing Officer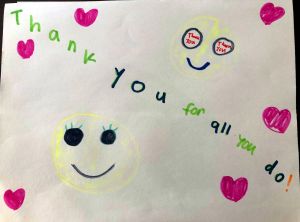 God Bless all nurses and doctors and all the staff at Cooley Dickinson Hospital
Hi to all my friends in the ER, (Kathy, Jen, Crystal, Krystal, Daisy, Tom, Holly, Tricia, and really everyone of you I hold so dear,
I think of you from my "isolation fortress" (my sweet home) and hope you all are doing a great job keeping your hands clean, wearing face masks to prevent your hands from touching your face, keeping your distance whenever possible, cleaning your equipment (that means the office areas too!!!) and supporting each other during this tough time. You are all on my mind every day.
Let me know if there is ANY way I can help.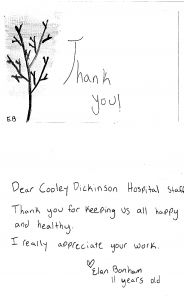 Sending love and virtual hugs all around,????❤️????????❤️!
As a retired RN, and as a Volunteer at the Main Information Desk, I know what an amazing job all of you are doing.  Being on the front line, as you are, is very stressful, but I'm sure that your dedication and selfless service to the greater community will help get us all through these tough times.
You have my support and heartfelt appreciation.  I can't wait to rejoin you!
Many Blessings,
As we work each day in our state Senate to help ensure that the Commonwealth is rising ever more effectively to meet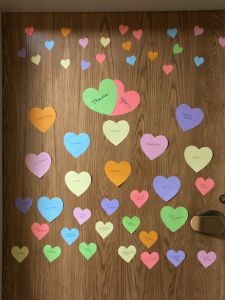 the challenges presented by the COVID-19 outbreak, please accept our profound gratitude for your tireless efforts to care for our wider community. Frontline health care workers inspire us all to work harder and to be the very best allies we can be in this crisis. Please know that we're with you.
Jo Comerford for the Hampshire, Franklin, Worcester State Senate Team
I could not be prouder of the Cooley Dickinson team!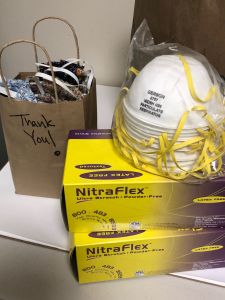 Thank you for all the CDH staff are doing to care for our community during a very stressful time. I deeply appreciate the dedication of the front line staff and the administrators who support them.
Stay Safe and Thank You for helping others in need. In Behalf of Louise Levy & wanting to help others in need.
Regards,
Carol Murray

Note sent along with a gift in support of Cooley Dickinson



Dios los proteja y cuide a todos mil bendiciones para todos y gracias ???? (God protect and take care of you all thousand blessings to all and thank you)
Thank you for all your hard work that you do to take care of and celebrate our patients!
Angela Belmont, Chief Nursing Officer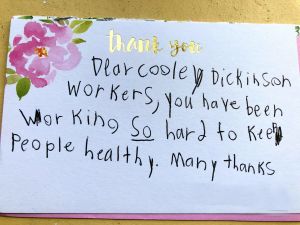 I would like to send a Thank You to all of the Cooley Dickinson Healthcare Team for all that you do. I would like to give a special shout out to the staff in Environmental Services, Transportation, Linen, Facilities and Nutrition Services. You are all SUPER HEROES!!!!
I had to go to Cooley for a lab test, the first time I've gone anywhere in several days. The parking lot was mostly empty & the hospital quiet. They were screening everyone just inside the door. On the way out I was hit by the strongest feeling of how heroic all the hospital staff is. And medical staff everywhere, private offices or whatever. And the police & fire & other emergency responders. They're not saying "I won't do this". They're doing high-risk work to protect everyone. Very inspiring and gratitude-making!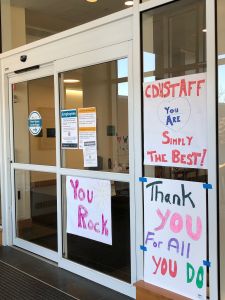 Thank you for your guidance. This is very helpful. Stay well.
Love you guys – you are saving us!
Josee Goldin

Note sent along with a gift in support of Cooley Dickinson
We are so grateful for your work! Sending you power, love and gratitude! Our health care workers and all those that support the hospitals are our heroes!
????❤ prayers to all our healthcare workers during this crisis to stay well and a huge thank you for everything you do every day to protect and care for so many.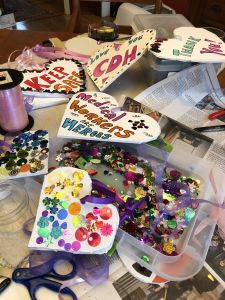 To All at Cooley Dickinson Health Care, Thank you for this very informative website! In this time of uncertainty we are looking to you for guidance and answers. We as a Community will get through this. You need us to help you by following your guidelines, and we need you to stay safe. Bless you all for all you are doing….each and every one of you!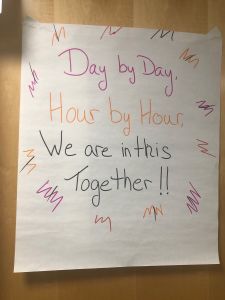 Thanks for all you do!
Cathi Hanauer

Note sent along with a gift in support of Cooley Dickinson



Thank you for all you do!????????????????????????????
Thanks to all Cooley employees on the front lines !!! and for all Cooley employees helping everywhere!
We are so proud of you and grateful for your dedication!!!
Thank you to the VNA team, providing homecare to those in need..stay safe ????
You all are an amazing group of knowledgeable professionals. Thank you for saving my life in 2009. Be safe and prayers to all.
Praying for all of our friends at Cooley Dickinson!! From the Cancer Center, Radiation Oncology, surgical daycare, and Interventional Radiology, and everyone else. You supported Leroy and myself for the past 4 years with loving kindness like no other!! You are in our hearts and prayers every day!!!!
Much love,
Donna and Roy!!!!! (Nurse Monica and Roy in the picture)

❤❤❤
Everyone who works hands on with our patients! Thank you????????❤️
Thank you all for the work that you do. We pray that you all stay safe!! Please get some masks and PPE so you can stay well!
Alice Henning

Note sent along with a gift in support of Cooley Dickinson
Thank you to every one of you for your service.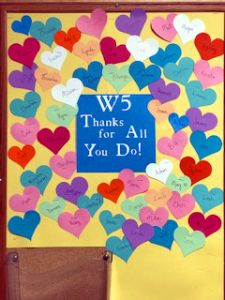 Just wanted to share a thank you I made for West 5 staff to let them know how much I appreciate them and how thankful I am that they are here to help take care of our vulnerable populations.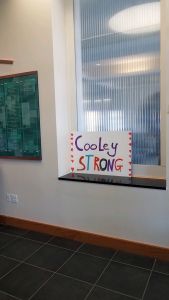 I have never been prouder of and more grateful to our amazing staff. And appreciative of our incredibly supportive community.
Joanne Marqusee, President of Cooley Dickinson
You have my heart felt appreciation and admiration. ????
I too am so proud of the staff and the work they are doing during these challenging times. The signs are all over the hospital letting them know how much they are appreciated. Thank you for all that you do everyday.
Angela Belmont, Chief Nursing Officer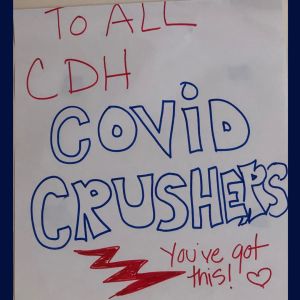 Thank you to all Cooley Dickinson staff on the front lines and those supporting behind the scenes! You all are heroes! With much admiration,
Laurie Lamoureux, Chief Financial Officer
Thanks to all at Cooley Dickinson for their dedication, work, courage during this trying time.
Karen Bierwert

Note sent along with a gift in support of Cooley Dickinson
Those who work at C.D.H. are fabulous, dedicated people. Thanks to all for everything they do . Our hospital. Is blessed to have you.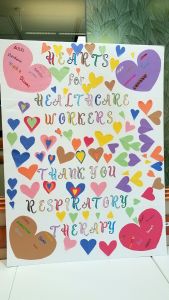 Best hospital, fabulous staff. I was there in Oct. intensive care, nurses at CD are the best. So kind and reassuring. You guys rock.
I want to send a THANK YOU to all Cooley Dickinson Healthcare Team members for all that you do daily and especially during these critical times.I also want to send a special thank you to the CDH MICROBIOLOGY DEPARTMENT that has been working diligently to expedite a COVID-19 test validated and available to be used at CDH, and another to the PHLEBOTOMY TEAM that is out there collecting quality specimens from patients so they can continue to get the healthcare they need.
You are the BEST!
Laura Reinholz, MT (ASCP), Blood Bank Supervisor
---
#Hearts

ForHealthcareWorkers
Thank you to all the kids out there who are making thank-you hearts for healthcare workers! You are really helping and everyone here appreciates what you are doing – they have very hard jobs right now and when they can take a break, it is great to look out and see one of these hearts. You can send pictures of your hearts to feedback@cooleydickinson.org.