Taking Pride In Our Employees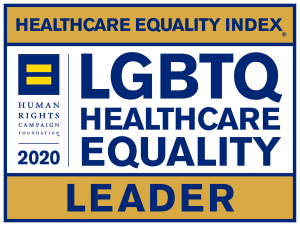 Cooley Dickinson Health Care works hard to ensure every employee feels supported, respected, and part of the decision making processes within the Cooley Dickinson community. We are committed to creating a healthy community regardless of what our colleagues look like, believe, or who they love.
In addition to being an LGBTQ supportive employer in Western Massachusetts, Cooley Dickinson Health Care is proud to have been recognized as an LGBTQ Healthcare Equality Leader by the Human Rights Commission for the past three years. Our commitment to equality and inclusivity has informed how we provide care, train our staff, and create our patient policies. As a result, we're able to provide specialized and respectful care to our community from a diverse group of employees.
Our Commitment To Diversity, Equity, & Inclusion
As part of our ongoing commitment to provide an inclusive, equitable workplace, we have established the Diversity Equity & Inclusion Council. Its goal is to diversify Cooley Dickinson's workforce and governance, enhance cultural competency, and eliminate health disparities in order to advance healthcare equity. This council gives our employees and community participants a forum for discussing their needs, views, and visions for the future. As a member of the Cooley Dickinson team, you have the opportunity to have a hand in shaping the future of compassionate, inclusive health care.
Our Communities
Northampton, Massachusetts, and the surrounding communities have a vibrant and rich history of lifting up LGBTQ voices. Northampton Pride had its first march in 1982, and that march still occurs annually today. In 2018, Northampton was recognized for its LGBTQ friendliness by the Human Rights Commission and earned a perfect score on the 2018 Municipal Equality Index. This score was given in recognition of Northampton's non-discrimination laws as well as other policies and resources dedicated to the equitable treatment of our lesbian, gay, bisexual, and transgender community members. By joining the Cooley Dickinson team, you can be part of an active local community focused on advocacy, equality, and visibility for our LGBTQ members.
Search Job Opportunities

more

Interested in joining our team providing and advancing care for the LGBTQ community and beyond? Click here to browse current job opportunities at Cooley Dickinson.

Learn More

Reasons to Work Here

more

We value the contribution of every member on our team and are dedicated to supporting our employees' well-being. Read more about the advantages and benefits of a Cooley Dickinson career.

Learn More