Practicing Cancer Care at Cooley Dickinson
Approximately half of us will be diagnosed with some form of cancer at some time in our lives, including 1 in 8 women being diagnosed with breast cancer and 1 in 9 men being diagnosed with prostate cancer. The Mass General Cancer Center at Cooley Dickinson Hospital recognizes the need for a broad spectrum of options in cancer treatment, including an ongoing commitment to continually upgrade on-site equipment, take full advantage of our system affiliation by accessing Mass General Brigham's cancer resources, and maintain a team of staff whose dedication to excellence is only perhaps outshone by their collective compassion.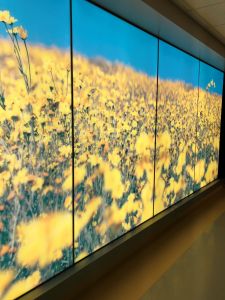 Cooley Dickinson increases its capability to treat cancer every year, investing in new medications and radiation technologies, and supplementing chemotherapy and radiation treatment with Integrative Therapies including Reiki, acupuncture and oncology massage which aim to help maintain a high quality-of-life throughout a patient's regimen. Breast cancer care is now fully integrated with Cooley Dickinson's Breast Center, which coordinates multiple imaging diagnostics alongside other screening and treatment tools, and works with Cooley Dickinson Medical Group Plastic Surgery to facilitate seamlessly scheduled mastectomy/reconstructive surgery options.
Our cancer center provides a variety of treatments and services and includes quiet, spacious treatment areas for patients in our infusion suite, a state-of-the-art radiation oncology suite with a new linear accelerator that increases accuracy and reduces treatment times, and a care team of exceptional, compassionate professionals. Associated surgeries are performed at our equally impressive Kittredge Surgery Center.