Practicing Primary Care at Cooley Dickinson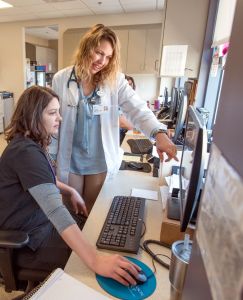 Every community needs a first-call provider when they're not feeling well; urban and rural, young and old, fast-paced and easy-going. In the Pioneer Valley, we have all of these kinds of people and communities–it's one of the reasons we love it here.
When you choose to work with Cooley Dickinson Health Care as a provider, you're joining a staff of expert physicians, nurse practitioners, and physician assistants, accomplished in their fields and effective in caring for their communities. We collaborate to ensure positive outcomes for both you and your patients. View our Massachusetts doctor jobs listings now.
Together, the award-winning providers of Cooley Dickinson offer our communities a breadth and depth of medical care that is transforming lives and changing how care is delivered. We do our work in a medically advanced setting, with the tools and technologies to maximize your ability to provide high quality care. From physician jobs to doctor careers, we currently have a number of positions open, all with competitive benefits.
The excellence we strive for every day is rooted in respect. We understand that patients and their families are at the center of care, and we encourage them to participate in the decisions that impact their lives.