At This Location:
Cooley Dickinson now has a greatly expanded presence in Amherst, at its 170 University Drive location. In addition to several new providers that have been added to staff in the past few years, services have expanded to include more specialty care, on-site imaging and options for acute care, including for no-appointment-necessary Urgent Care and Orthopedic Injuries.
Services available at our Amherst location now include:
Primary Care
Our Amherst location's anchor practice has long been Amherst Medical Associates, a primary care practice that specializes in family medicine and sees patients of all ages.
Radiology & Imaging 
Another longtime service at University Drive is our Radiology & Imaging facility, where patients can receive x-rays, mammograms and more without having to cross the Connecticut River.
Urgent Care
Formerly AEIOU Urgent Care, this acute care facility officially became part of Cooley Dickinson Health Care in 2020, and provides walk-in, no-appointment-needed care for non-life-threatening illnesses and injuries.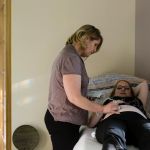 ObGyn & Midwifery
Amherst has always been an important location for Cooley Dickinson ObGyn & Midwifery, which offers family planning services, STD testing, annual exams and other OB-GYN care to both the student population and women of all ages in the area.
Orthopedics & Sports Medicine
Joining the Amherst slate of services in 2020/2021, Cooley Dickinson Orthopedics & Sports Medicine offers access to specialists in hands & feet, sports medicine, orthopedic trauma, joint replacement and acute orthopedic injury at a walk-in, no-appointment-necessary* Orthopedic Injury Clinic (*Amherst Orthopedic Injury Clinic is temporarily closed. Please visit our Hatfield Injury Clinic location).
Lab/Patient Center
Most lab services are available at our Amherst Lab location, including blood draws, urine tests and other diagnostics. No appointment is required, and patients can take advantage of Cooley Queue, a service that notifies you by cell phone or pager when it is time for your test.