COVID-19 Resources
View the Acute Care Hospital Phase 1 Reopen Attestation
View The Commonwealth's Reopening Website
---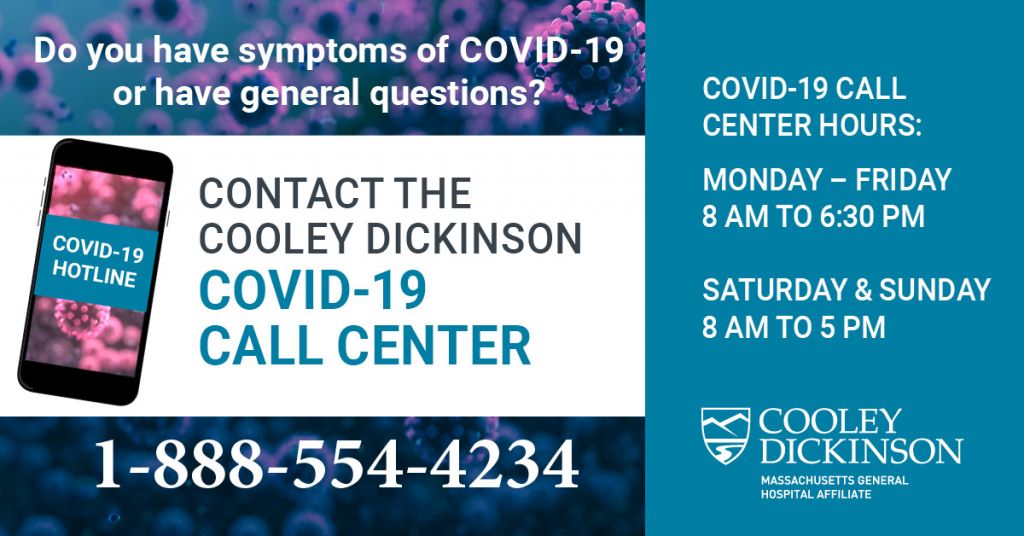 Cooley Dickinson Community Call Center/COVID-19 Information Line: For community questions about coronavirus (COVID-19), referrals and questions about donations.
---
For the most immediate updates on information and recommendations for the public, please click
For updates from Cooley Dickinson Leadership and on Cooley Dickinson policies regarding rescheduling non-emergency care, COVID-19 testing and visitation, please click
---
The coronavirus is a new ('novel') pathogen that has emerged in the past few months. Many of its characteristics are still unknown at this time, though many studies are ongoing or have been completed in the U.S. and in areas of the world that have experienced outbreaks of the virus already.
At Cooley Dickinson, we have been working for weeks to prepare a response on every level to the likely spread of the virus, to best protect our patients and families as well as our staff who are working so hard to respond to this unprecedented public health challenge.
We fully understand how confusing, concerning and rapidly changing the current health care situation is. Thank you for all you are doing to follow the critically important suggestions from credible sources, such as the Mass Department of Public Health and the Centers for Disease Control and Prevention.
We want our community to be informed, not only about federal and statewide trends and policies, but also about what is happening right here in our community. Please know that changes we are making are under the guidance of best practices to slow the spread of infection in our community. And we are planning ahead now and discussing possible contingencies if the situation gets worse.
Consider this webpage your source for changes happening within Cooley Dickinson Heath Care as well as a launch pad for links to other local resources. We welcome your feedback. Email feedback@cooleydickinson.org.
---
Links for specific populations:
---

---
Printable Signage and Visual Aids

(View/Download)
Stop the spread of germs (PDF)

Stop the spread of germs (Espanol PDF)

CDC: What to do if you are sick with COVID-19 (PDF)

For additional information and resources issued by local, state and federal agencies, please visit the links below:
---
REMINDER:
If you have symptoms, call your primary care provider before coming to the hospital.
For your safety and the safety of others, please do not come to an urgent care clinic or emergency room unless you have been instructed to do so. If you have life-threatening symptoms like difficulty breathing or chest pressure, please call 911. Thank you for helping us keep our community safe by limiting the spread of the virus and allowing our teams to care for the sickest patients.