Donations
---
We are so grateful for the outpouring of support from our community – thank you. Please see below for a list of different categories of donations and specific guidelines.
---
Your gift today is a way for you to make an immediate impact where funds are needed most in a time like this.
Please consider helping by making a gift online right now.
Our nurses, doctors, and staff are so grateful for your support.
All inquiries regarding non-monetary donations should be directed to the Cooley Dickinson Call Center at 888-554-4234, Monday-Friday 8am-5pm.
---
MEDICAL-GRADE PPE (Personal Protective Equipment)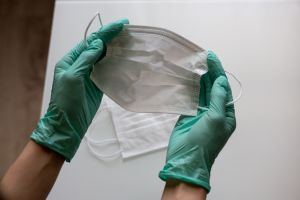 If you are interested in donating medical-grade PPE*, please drop donations off at Cooley Dickinson Hospital's North Entrance, Monday through Friday, between 8 am and 4:30 pm. There will be someone at the North Entrance who will accept your donation; you don't need to leave your car.
These donations are being gathered and will receive clinical assessment and approval prior to being deployed. You will be asked to leave your name so we can acknowledge your donation. If you would like to make an anonymous donation, that is fine, too.
*Medical grade PPE includes the following machine-manufactured products:
Masks: N95, Surgical, Fluid Shield
Goggles / Safety glasses
Gloves
Gowns: Disposable, Isolation
Hand sanitizer
Bleach/Sani-Wipes
---
3D PRINTED MASKS
For those organizations with 3D printing capabilities who are interested in producing masks or other medical equipment, we ask that you email:  covid_innovation@partners.org, the Partners Covid Innovation Center. This is our system wide innovation hub. They will get back to you with the guidelines and instructions.
---
HOMEMADE FACE MASKS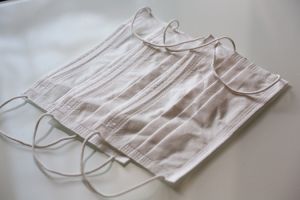 To ensure patient safety, we are currently following Centers for Disease Control and Prevention guidance in accepting non-medical grade PPE (such as homemade masks). Here are the instructions for making a face mask:
YouTube video instructions (two videos)
(NOTE: There has been much discussion on the value/efficacy of homemade masks. From our infection prevention doctors on this question: Medical grade masks that we refer to as "surgical masks" or "procedural masks" are made of cloth and are the standard and accepted PPE for patients on droplet precautions. Currently we have adequate supplies of medical grade equipment; we are accepting donations of homemade masks. We are putting them in storage and will evaluate the appropriateness of use of homemade masks in case there is a future need).
While Cooley Dickinson is accepting hand-sewn masks, our primary need right now is for medical grade PPE. We also welcome all financial support and encourage those who would like to support our healthcare workers during this time to make a donation to the COVID19 Fund.
Masks can be dropped off at Cooley Dickinson Hospital's North Entrance, Monday through Friday, between 8 am and 4:30 pm.
---

BLOOD DONATION
Baystate Medical Center Donor Center
Until further notice during the COVID-19 pandemic, Baystate Health is relocating all blood and platelet donations to 361 Whitney Ave. in Holyoke on the 2nd floor. Donors should follow signs to the Education Center.
Blood donations will take place daily, Monday through Sunday, from 10 a.m. to 4 p.m. Walk-ins are welcome but appointments are suggested and can be made by calling 413-794-4600.
For more information, visit the link HERE.
Holyoke Medical Center Donor Center:
Call for appointment at 413-534-2591
Stop at front entrance desk and let staff know you are there to donate. You will be allowed to proceed even though no visitors are allowed.
Hours: Monday through Friday- 8 am-3pm
American Red Cross:
Nearest location is 150 Brookdale Drive, Springfield, MA 01104
Schedule an appointment online HERE.
Enter the zip code of 01104 for the nearest ARC location in Springfield to see available dates and times
Call 1-800-733-2767
 Hours:

Saturday- 7:45 am-4:00 pm
Sunday and Monday- 7:30a,-3:45pm
Tuesday through Friday- 11 am-7:15pm
---
VOLUNTEERING:
While we appreciate people wanting to come to the hospital to volunteer, we are not allowing volunteers at this time. You can help us by staying home and practicing social distancing. Monetary donations are also welcome.