Mes

sag

es

of S

up

po

rt
We are collecting messages of support for our providers and staff. To share your thanks, words or pictures, you can send an email to feedback@cooleydickinson.org or visit our Facebook page and comment on a post.
---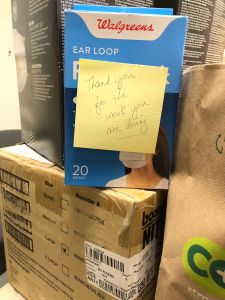 Hi to all my friends in the ER, (Kathy, Jen, Crystal, Krystal, Daisy, Tom, Holly, Tricia, and really everyone of you I hold so dear,
I think of you from my "isolation fortress" (my sweet home) and hope you all are doing a great job keeping your hands clean, wearing face masks to prevent your hands from touching your face, keeping your distance whenever possible, cleaning your equipment (that means the office areas too!!!) and supporting each other during this tough time. You are all on my mind every day.
Let me know if there is ANY way I can help.
Sending love and virtual hugs all around,💕❤️💟🥰❤️!
As a retired RN, and as a Volunteer at the Main Information Desk, I know what an amazing job all of you are doing.  Being on the front line, as you are, is very stressful, but I'm sure that your dedication and selfless service to the greater community will help get us all through these tough times.
You have my support and heartfelt appreciation.  I can't wait to rejoin you!
Many Blessings,
As we work each day in our state Senate to help ensure that the Commonwealth is rising ever more effectively to meet the challenges presented by the COVID-19 outbreak, please accept our profound gratitude for your tireless efforts to care for our wider community. Frontline health care workers inspire us all to work harder and to be the very best allies we can be in this crisis. Please know that we're with you.
Jo Comerford for the Hampshire, Franklin, Worcester State Senate Team
I could not be prouder of the Cooley Dickinson team!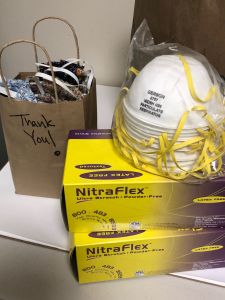 Thank you for all the CDH staff are doing to care for our community during a very stressful time. I deeply appreciate the dedication of the front line staff and the administrators who support them.
Stay Safe and Thank You for helping others in need. In Behalf of Louise Levy & wanting to help others in need.
Regards,
Carol Murray

Note sent along with a gift in support of Cooley Dickinson



Dios los proteja y cuide a todos mil bendiciones para todos y gracias 🙏 (God protect and take care of you all thousand blessings to all and thank you)
I would like to send a Thank You to all of the Cooley Dickinson Healthcare Team for all that you do. I would like to give a special shout out to the staff in Environmental Services, Transportation, Linen, Facilities and Nutrition Services. You are all SUPER HEROES!!!!
I had to go to Cooley for a lab test, the first time I've gone anywhere in several days. The parking lot was mostly empty & the hospital quiet. They were screening everyone just inside the door. On the way out I was hit by the strongest feeling of how heroic all the hospital staff is. And medical staff everywhere, private offices or whatever. And the police & fire & other emergency responders. They're not saying "I won't do this". They're doing high-risk work to protect everyone. Very inspiring and gratitude-making!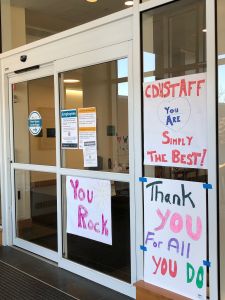 Thank you for your guidance. This is very helpful. Stay well.
Love you guys – you are saving us!
Josee Goldin

Note sent along with a gift in support of Cooley Dickinson
We are so grateful for your work! Sending you power, love and gratitude! Our health care workers and all those that support the hospitals are our heroes!
🙏❤ prayers to all our healthcare workers during this crisis to stay well and a huge thank you for everything you do every day to protect and care for so many.
To All at Cooley Dickinson Health Care, Thank you for this very informative website! In this time of uncertainty we are looking to you for guidance and answers. We as a Community will get through this. You need us to help you by following your guidelines, and we need you to stay safe. Bless you all for all you are doing….each and every one of you!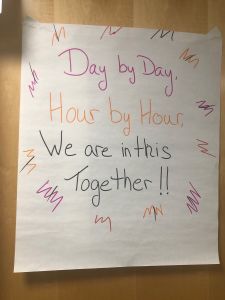 Thanks for all you do!
Cathi Hanauer

Note sent along with a gift in support of Cooley Dickinson



Thanks to all Cooley employees on the front lines !!! and for all Cooley employees helping everywhere!
We are so proud of you and grateful for your dedication!!!
Thank you to the VNA team, providing homecare to those in need..stay safe 💜
You all are an amazing group of knowledgeable professionals. Thank you for saving my life in 2009. Be safe and prayers to all.
Everyone who works hands on with our patients! Thank you🙏🏼❤️
Thank you all for the work that you do. We pray that you all stay safe!! Please get some masks and PPE so you can stay well!
Alice Henning

Note sent along with a gift in support of Cooley Dickinson
Thank you to every one of you for your service.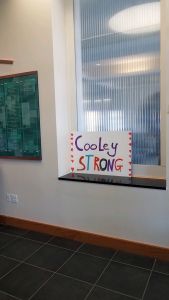 I have never been prouder of and more grateful to our amazing staff. And appreciative of our incredibly supportive community.
Joanne Marqusee, President of Cooley Dickinson
You have my heart felt appreciation and admiration. 💖
I too am so proud of the staff and the work they are doing during these challenging times. The signs are all over the hospital letting them know how much they are appreciated. Thank you for all that you do everyday.
Angela Belmont, Chief Nursing Officer
Thank you to all Cooley Dickinson staff on the front lines and those supporting behind the scenes! You all are heroes! With much admiration,
Laurie Lamoureux, Chief Financial Officer
Thanks to all at Cooley Dickinson for their dedication, work, courage during this trying time.
Karen Bierwert

Note sent along with a gift in support of Cooley Dickinson
Those who work at C.D.H. are fabulous, dedicated people. Thanks to all for everything they do . Our hospital. Is blessed to have you.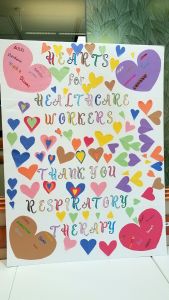 Best hospital, fabulous staff. I was there in Oct. intensive care, nurses at CD are the best. So kind and reassuring. You guys rock.
---
#

Hearts

For

HealthcareWorkers
Thank you to all the kids out there who are making thank-you hearts for healthcare workers! You are really helping and everyone here appreciates what you are doing – they have very hard jobs right now and when they can take a break, it is great to look out and see one of these hearts. You can send pictures of your hearts to feedback@cooleydickinson.org.