COVID-19 Vaccine
The majority of patient vaccination for COVID-19 in our region is currently coordinated by the Commonwealth of Massachusetts. If you are a currently eligible Cooley Dickinson patient seeking vaccination through one of our providers, practices or facilities, you will be notified by phone or through our patient gateway portal when we are able to schedule an appointment for you. If you are not a Cooley Dickinson patient, or if you do not want to wait to be contacted, you may look to the options below that are open to all currently eligible members of the general public.
If you are eligible to receive the vaccine, according to state guidance, vaccination is available through city and town clinics, local pharmacies, and designated state vaccination sites. Please visit Mass.gov or directly at VaxFinder.mass.gov for more information or call 2-1-1.
VISIT THE LINKS BELOW TO ACCESS THE LATEST INFORMATION ON COVID-19 VACCINES IN MASSACHUSETTS:
---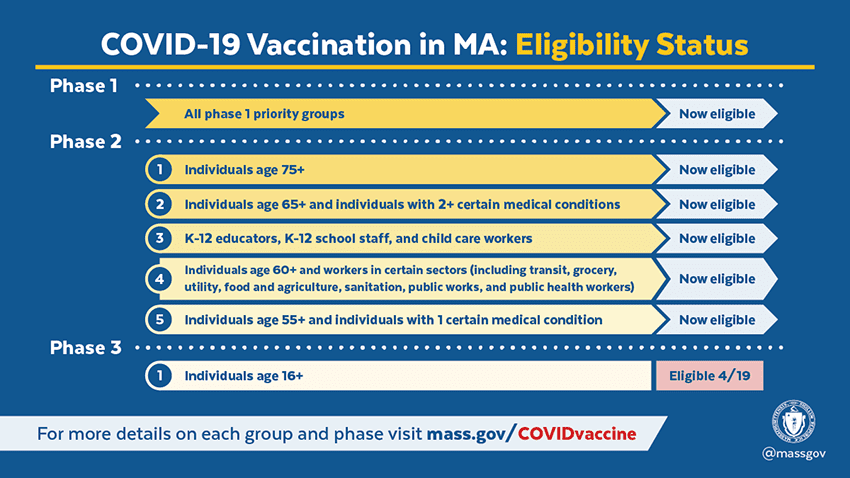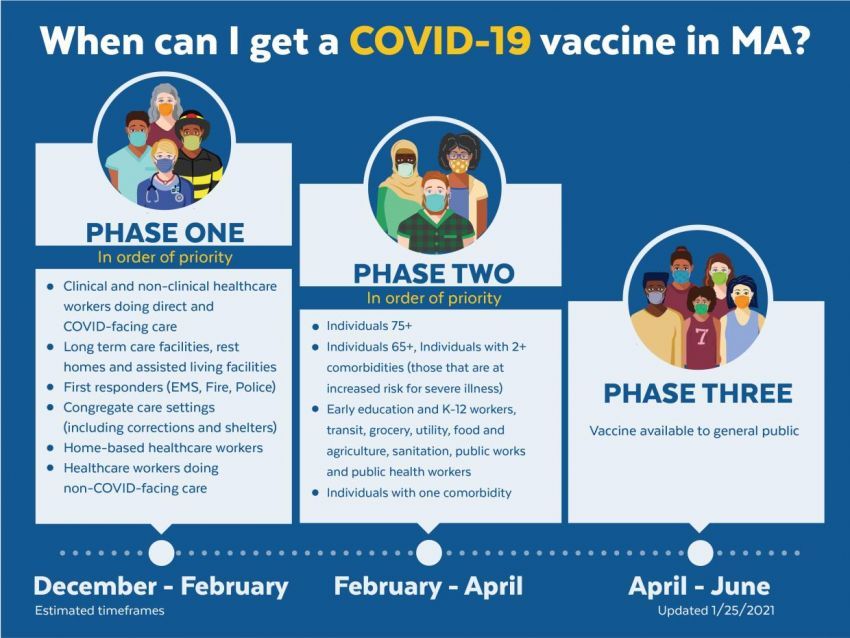 ---
Where Can I Get the Vaccine?
COVID-19 vaccination is now available at both MGB sites, including Cooley Dickinson's Atwood Drive clinic, and at state-coordinated sites.
For a list of MGB-coordinated locations (Cooley Dickinson/MGB patients only), click HERE.
For a list of state-coordinated locations (open to all currently eligible Mass. residents), click HERE.
For information on COVID-19 vaccines for homebound patients, click HERE
---
Where can I find more information?
A phone line is now available for eligible people to call to make a COVID-19 vaccine appointment. The phone number is 211 and it is open now. Callers should select the prompt "Help for scheduling a vaccine." Phone lines are open from 8:30 a.m. until 5:00 p.m. Monday through Friday.
Information on vaccine availability, patient eligibility and distribution locations is changing on a daily basis and is driven by the state's response plan. Local information and information specific to vaccine distribution plans for western Massachusetts residents and patients of all Cooley Dickinson Health Care providers and practices will be posted here when it becomes available. Currently the best source of information on COVID-19 vaccines for patients is via the Patient Gateway Internet portal. The Cooley Dickinson Call Center is also available as a resource for up-to-date information on COVID-19 vaccination, testing, and more. Call:
LOCAL INFORMATION:
All federal, state and local information on COVID-19 vaccine eligibility, availability and distribution/locations is fluid and can change as often as daily. Please contact all clinics/organizations/municipalities or distribution centers directly for the most up-to-date information.
Northampton Regional Clinic
Northampton Senior Center
67 Conz St., Northampton, MA
https://www.northamptonma.gov/2219/COVID-19-Vaccination-Clinics
For assistance with signing up in Northampton, please call: (413) 587-1219
Amherst Regional Clinic
Bangs Community Center
70 Boltwood Walk, Amherst, MA
www.amherstcovid19.org
For assistance with signing up in Amherst, please call:(413) 259-2425
For all other locations, please visit:  https://www.mass.gov/info-details/covid-19-vaccination-locations-forindividuals-in-eligible-groups-and-phases
Assistance in Easthampton
Easthampton Council on Aging  
(413) 527-6151 (Mon-Fri, 8 a.m.- 4 p.m.)
Easthampton Health Department
(413) 529-1400 ext. 430 (Mon-Thurs, 10 a.m.-12:30 p.m.)
Transportation Requests
To request transportation to a vaccine clinic, please call the Easthampton Council on Aging at: (413) 527-6151
Hampden County