Awards and Recognitions
Awards and recognitions from independent agencies validate that our staff is continuously focused on improving the quality of care we provide.

---
Cooley Dickinson Hospital has received the American Heart Association's Get With The Guidelines® – Stroke Gold Plus quality achievement award for its commitment to ensuring stroke patients receive the most appropriate treatment according to nationally recognized, research-based guidelines, ultimately leading to more lives saved and reduced disability.
Cooley Dickinson Hospital received an evaluation of 100 and the designation of "LGBTQ+ Healthcare Equality Leader" in the Human Rights Campaign Foundation's 15th anniversary edition of the Healthcare Equality Index (HEI), the nation's foremost benchmarking survey of healthcare facilities on policies and practices dedicated to the equitable treatment and inclusion of their LGBTQ+ patients, visitors and employees.
Cooley Dickinson is the only hospital in western Mass. – and one of 14 in the Commonwealth – to earn the LGBTQ+ Healthcare Equality Leader designation.
Cooley Dickinson Hospital received an 'A' Leapfrog Hospital Safety Grade for spring 2022 .This national distinction recognizes Cooley Dickinson Hospital's achievements in protecting patients from harm and error in the hospital.
"Cooley Dickinson Hospital continues its successful track record of earning 'A' letter grades," says Cooley Dickinson President and CEO Lynnette Watkins, MD, MBA, of the results that were released earlier today by The Leapfrog Group.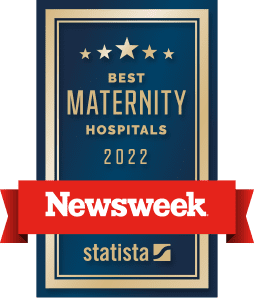 Newsweek/Statista 'Best Maternity Hospital'
Cooley Dickinson Hospital has been named a Best Maternity Hospital 2022 by Newsweek magazine. This award is presented by Newsweek and Statista Inc., the world-leading statistics portal and industry ranking provider.
The Newsweek/Statista list names the top 350 leading hospitals for maternity care in the United States, which are divided into two performance categories: five ribbon hospitals (161 institutions) and four ribbon hospitals (189 institutions); Cooley Dickinson earned four ribbons. See the complete list online at Newsweek.com/bmc-2022.
Cooley Dickinson Hospital was awarded a 2023 Women's Choice Awards. The Breast Center was honored for breast imaging. Breast care centers must be designated by the American College of Radiology (ACR) as a Breast Imaging Center of Excellence (BICOE) in order to qualify.
The hospital was also ranked within the top 8% of 4,729 facilities examined with 73% of patients reporting they would "definitely recommend the hospital."

Centers for Medicare and Medicaid Services (CMS)
Cooley Dickinson Hospital has earned a 5-Star rating from the Centers for Medicare and Medicaid Services (CMS) CMS publishes ratings for hospitals so that Medicare recipients can assess quality of care and compare hospitals. This rating is achieved by the top fourteen percent of hospitals nationwide.
The overall star rating for hospitals summarizes quality and patient safety information on important topics, such as readmissions and deaths after heart attacks or pneumonia. The overall rating, between 1 and 5 stars, summarizes a variety of measures across five areas of quality into a single star rating for each hospital. The overall rating shows how well each hospital performed on an identified set of quality and patient safety measures compared to other hospitals in the U.S. More stars equates to better hospital performance on the available quality measures. Click here to see hospital ratings.