Care during COVID-19

If you are a patient at Cooley Dickinson Medical Group Diabetes Center, our goal is to continue to take care of you during the current health care crisis while keeping you safe. While we are temporarily limiting in-person visits to those which cannot be delayed, we are available to provide telephone and virtual visits during our regular clinic hours. If you would like to arrange a telehealth appointment, please call our office at 413-586-1601 and choose option "1".
To make a request for a telehealth appointment through Partners Patient Gateway, please send a request through the Gateway as you normally would.
---
Overview
At the Cooley Dickinson Medical Group Diabetes Center, we're committed to advancing your health by helping you manage diabetes through personalized care, quality education, and ongoing support.
Diabetes can be a serious, typically chronic condition. Among adults, about 1.7 million new cases of diabetes are diagnosed each year. More than 18,000 new cases of type 1 diabetes are estimated to be diagnosed among US youth younger than age 20 each year. But diabetes is also very manageable for many people. Often, diabetes education is a crucial component of treatment that can help to optimize the health and well-being of teens and adults with diabetes and pre-diabetes.
Our Services
The Diabetes Center offers innovative tools and programs that focus on exercise, nutrition, medication, and other measures for the prevention as well as successful management of diabetes. For more information on specific services, programs or classes for people living with diabetes, click the links below or to the right: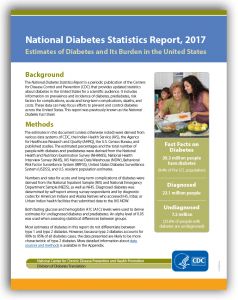 More Information (Insurance information, appointment scheduling, directions to our location and informational brochure downloads

The American Diabetes Association recognizes this education service as meeting the National Standards for Diabetes Self-Management Education.
We are a American Diabetes Association-recognized Diabetes Education programCooley Dickinson Diabetes Center offers several classes for people living with diabetes and pre-diabetes. See below for our current and upcoming offerings.
---

For more than 7.5 million of Americans, including 1.25 million individuals with type 1 diabetes, access to insulin is literally a matter of life or death. The struggle to afford insulin—which tripled in cost between 2002-2013 and has continued to increase—affects the health and lives of many. Click HERE to read about efforts by the ADA's Insulin Access and Affordability Working Group to demand transparency from all entities in the supply chain and keep insulin affordable for all of the more than 7 million people who rely on it to treat their diabetes.
If you need help affording insulin, visit insulinhelp.org/ for a list of resources.
---
Patient Downloads
Initial Visit Assessment Forms for Patients
Please choose one of the initial assessment forms from the following 3 that fits your referral to the Diabetes Center. Please print the form and fill it out as best you can prior to your appointment with the diabetes educator.
For patients new to the diabetes education center, unless you have gestational diabetes (diabetes diagnosed during pregnancy) or you do not have diabetes and are being referred for nutrition therapy, please use this form:

If you have gestational diabetes (diabetes diagnosed during your current pregnancy) please use this form:

If you DO NOT have diabetes and are you being referred for nutrition therapy please use this form:

---
Blank log forms for patients to download and print.
Blank glucose testing log

Blank food and glucose log

If you have any questions please call the Diabetes Center for help at 413-586-1601