Lab Patient Service Centers
---
Do you need a blood test?
Our Patient Lab Service Centers are ready to assist you with lab draws and specimen collection services.
 If you register at our locations in Amherst, 170 University Drive; Northampton, 22 Atwood Drive; South Deerfield, 29 Elm Street; Southampton, Big Y Plaza/College Highway; Belchertown, 40 Turkey Hill Road, Suite B; or 30 Locust Street, at Cooley Dickinson Hospital, you will be automatically entered into Cooley Queue, a virtual line that keeps your place and ensures physical distancing. Being in a virtual line means you can wait in a safe space prior to being asked to come in for your lab test.
Once you are registered, you have the option of taking a pager or providing us with a cell phone number where you can receive texts. Either way, we'll be in touch to let you know when it's your turn to come in.
 Cooley Dickinson Lab/Patient Service Centers are walk-in locations; no appointment is necessary. Cooley Queue helps keep you safe and provides you with the medical testing your provider ordered.
---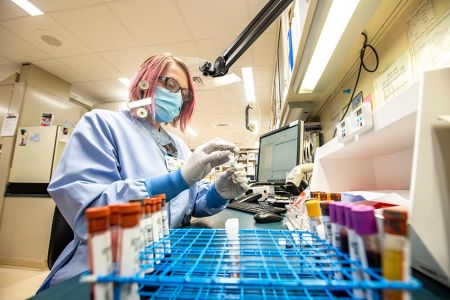 Cooley Dickinson's Laboratory Services and Department of Pathology are accredited by the American Association of Blood Banks and the College of American Pathologists. These accreditations affirm Cooley Dickinson's commitment to safe, quality patient care. The more than 775,000 lab tests we perform each year provide vital diagnostic information to help doctors treat illnesses and prevent diseases.
Walk into any of the Lab Patient Service Centers listed below and on the right with a signed order or referral from your health care provider. Click on the location for additional information, including directions.
Our experienced phlebotomists and laboratory professionals look forward to assisting you. No appointment is required.