Radiation Oncology
Radiation therapy destroy cancer cells by directing a high-energy beam to the cancer site with minimal harm to healthy cells. One of the most common treatments for cancer, radiation therapy is targeted and minimally invasive compared to surgery or chemotherapy. Often, radiation treatment is given concurrently or in combination with other forms of cancer treatment to maximize positive results.
Radiation does not affect cancer cells right away—it takes days or weeks of treatment before cancer cells deteriorate. Radiation continues to affect cancer cells after treatments are complete, and are given daily Monday-Friday for a period of time prescribed by your radiation oncologist.
---
Advanced Radiation Therapy
When it's time to start cancer treatment, we understand that you want the best of the best in care. And our radiation oncologists feel privileged to be able to offer you some of the most advanced radiation therapy treatment available in a community hospital setting.
In July 2020, the radiation oncology team at the Vitkauskas Crowe Radiation Oncology Suite, part of the Mass General Cancer Center at Cooley Dickinson Hospital, is now treating patients on its new state-of-the- art linear accelerator (LINAC.)
Introducing: Linear Accelerator Radiation (LINAC)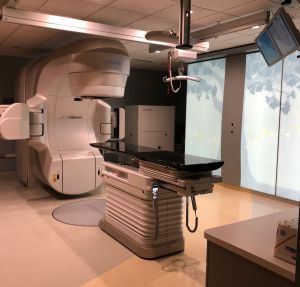 The new LINAC more precisely targets tumors while minimizing side effects and exposure to surrounding healthy tissue. The addition of the new equipment also expands the types of cancers that can be treated with radiation at Cooley Dickinson Hospital.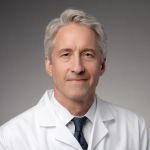 Radiation Oncologist John Sheldon, MD, medical director of Radiation Oncology at the Mass General Cancer Center at Cooley Dickinson, says the LINAC delivers more powerful cancer treatments with pinpoint accuracy and precision.
Coupled with the expertise of our radiation oncologists, dosimetrists, medical physicists, and radiation therapists, the LINAC provides a significant technological advantage for our patients.
Care During Treatment Planning Minimizes Side Effects
Investments in the Vitkauskas Crowe Radiation Oncology Suite in 2018 saw the installation of a new treatment planning machine for computed tomography (CT) simulations which include IV contrast, which was previously not available within the Cancer Center.
The simulation consists of CT scans or X-rays of the tumor. With these
X-rays, the radiation oncologist can map the exact location of a tumor, and the area to be treated.
The new LINAC also includes accessories that can create molds and masks, which helps replicate the precise position each time a patient undergoes treatment. Making sure the patient is in the correct position throughout their course of treatment helps to minimize uncomfortable side effects and allows for sculpting of the beam of radiation more precisely and tightly to the shape of the tumor.
Quicker Treatments
Treatment times on older radiation machines can take 10 to 30 minutes, depending on the patient's diagnosis. On the new LINAC, treatments can be completed in less than 10 minutes. For example, a radiation therapy appointment for a patient being treated for prostate cancer took 30 minutes. With the new LINAC, treatment time is less than 10 minutes.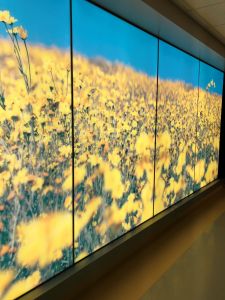 This time savings results from higher radiation output capability and more sophisticated engineering of the machine.
Treating more Types of Cancer
With the new LINAC, radiation oncology teams can treat more types of cancers at the Mass General Cancer Center at Cooley Dickinson Hospital, including cancers of brain, lung, spine, liver, and spine.
The new linear accelerator replaces a machine that was installed more than a decade ago. The new machine, delivered from California in November 2019, was carefully lowered by crane through a skylight and shuttled into its new home. Watch a video of the installation. The Vitkauskas Crowe Radiation Oncology Suite has two LINACs.
Contact Us
The days and weeks after a cancer diagnosis can be very emotional. If you are visiting us for the first time, our team of radiation oncologists and supporting staff understand that you and your family have many important decisions to make. To make sure you get the treatment you need, our multidisciplinary team will tailor a program for you.
To contact a member of our Radiation Oncology team, call 413-582-2107
---
Radiation Treatment at Cooley Dickinson: If you are scheduled to receive radiation treatment at Cooley Dickinson Hospital, please consider the following:
Your visit may last from 1-3 hours
If you are unable to keep an appointment, please call 413-582-2107 to reschedule
Please bring to your appointment:
A legible list of current medications and their doses
A completed Patient Health Assessment form (enclosed in your information packet)
All insurance cards (if your insurance requires a referral, please contact your PCP with this appointment information)
Please check with your insurance company regarding any co-pays your visit will require