Care during COVID-19
If you are a patient at Cooley Dickinson Medical Group Podiatry, our goal is to continue to take care of you during the current health care crisis while keeping you safe. While we are temporarily limiting in-person visits to those which cannot be delayed, we are available to provide telephone and virtual visits during our regular clinic hours. If you would like to arrange a telehealth appointment, please call our office at 413-586-1698 and choose option "1".
To make a request for a telehealth appointment through Partners Patient Gateway, please send a request through the Gateway as you normally would.
---
Overview
Welcome to Cooley Dickinson Medical Group Podiatry, where patients can expect expert treatment and prevention of musculoskeletal (bones, ligaments, muscles, tendons) problems. The practice's holistic approach to treating lower extremity disorders involves coordination of personalized services within the practice and with other providers, to ensure a comprehensive range of care to people of all ages.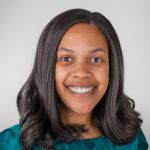 Dr. Shaneekwa Perkins, DPM has been practicing podiatric medicine, including corrective and reconstructive surgery, for years. Dr. Perkins treats a wide range of conditions affecting the lower extremities, including but not limited to:
| | |
| --- | --- |
| Achilles Tendonitis | Gout |
| Achilles Tendon Injury | Hammertoes |
| Ankle Sprains | High Arched Foot |
| Athlete's Foot | Ingrown Toenails |
| Biomechanical Issues | Neuromas |
| Bunions | Neuropathy |
| Diabetic Ulcers/Wounds | Non Diabetic Ulcers/Wounds |
| Flat Foot | Posterior Tibial Tendonitis |
| Foreign Body | Plantar Fasciitis |
| Foot and Ankle Injuries | Plantar Warts |
| Fractures | Tarsal Tunnel Syndrome |