Overview
Welcome to Cooley Dickinson Medical Group General Surgical Care. At our community-based general surgery practice, you'll find a team of compassionate, highly trained providers who are committed to improving health and lives through their advanced expertise.
Our approach to every case centers on the unique needs of the individual patient. Beyond the strictly medical, we consider the many social, emotional, and practical factors involved with any surgical option. Once we've worked with the patient and their family to determine the most effective course of action, we provide reliable, steadfast support through every step that follows.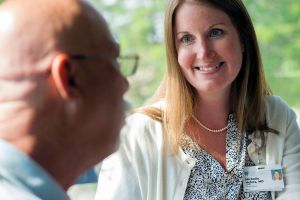 Cooley Dickinson Medical Group General Surgical Care offers surgical treatment and services in the following areas:
Abdominal
Breast
Colorectal
Dermatological
Surgical Oncology
In 2018, our practice will also be fully integrated with the new Cooley Dickinson Breast Center, and we will have surgeons onsite at the hospital.
General Surgical Care offers the assurance of:
Exceptional care close to home
The combined cutting-edge skills and experience of a seasoned surgical staff
Affiliation with one of the world's most renowned hospitals
Advanced minimally invasive/laparoscopic techniques across all procedures
A comprehensive range of specialties, including surgical oncology and pediatric surgeries
Prompt appointments (typically same-day for newly diagnosed cancer patients)
Call 413-584-4637 today for an appointment, or visit our Treatments & Services page to learn more.
New surgical protocol for colon surgeries aims to reduce recovery times, infection rates

more

Cooley Dickinson Medical Group General Surgical Care has begun to implement a new surgical protocol for colon surgeries that aims to reduce recovery times and infection rates, and improve the patient's overall experience.

Learn More

When the Surgeon Becomes the Patient: CDMG Physician knows Both sides of the Experience

more

Trust in her team: This spring, Cooley Dickinson General Surgeon Michelle Helms became a patient of her own practice.

Learn More