Overview
Welcome to Cooley Dickinson Medical Group General Surgical Care. At our community-based general surgery practice, you'll find a team of compassionate, highly trained providers who are committed to improving health and lives through their advanced expertise.
Our approach to every case centers on the unique needs of the individual patient. Beyond the strictly medical, we consider the many social, emotional, and practical factors involved with any surgical option. Once we've worked with the patient and their family to determine the most effective course of action, we provide reliable, steadfast support through every step that follows.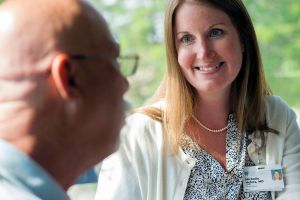 Cooley Dickinson Medical Group General Surgical Care offers surgical treatment and services in the following areas:
Abdominal
Breast
Colorectal
Dermatological
Surgical Oncology
Since 2018, our practice has also been fully integrated with the new Cooley Dickinson Breast Center, and we have surgeons onsite at the hospital.
General Surgical Care offers the assurance of:
Exceptional care close to home
The combined cutting-edge skills and experience of a seasoned surgical staff
Affiliation with one of the world's most renowned hospitals
Advanced minimally invasive/laparoscopic techniques across all procedures
A comprehensive range of specialties, including surgical oncology and pediatric surgeries
Prompt appointments (typically same-day for newly diagnosed cancer patients)
Call 413-584-4637 today for an appointment, or visit our Treatments & Services page to learn more.
---
Providers
Dr. Holly Michaelson is Chief of Surgery and the Director of Minimally Invasive Surgery at Cooley Dickinson Hospital. Dr. Michaelson was raised on a farm in Chester County, Pennsylvania. She was always on the go riding with her pony club, trimming her parents Christmas tree crop, and helping her father, a physician. Prior to matriculating at Temple University Medical School, Dr. Michaelson lived on Andros Island in the Bahamas and worked as a SCUBA instructor. She completed a general surgical residency at Drexel University College of Medicine and earned board certification from the American Board of Surgery in 2005. Dr. Michaelson has been recognized with induction into the Alpha Omega Alpha Honor Medical Society and most recently with a "Patient Giving Back Award," at Cooley Dickinson. In 2014, Dr. Michaelson became a Fellow of the American College of Surgeons (FACS), having met the highest professional standards set by the world's largest organization of surgeons. Outside of the office, Dr. Michaelson enjoys the quiet of the Hilltowns with the various animals on her farm. She enjoys tennis with her wife, skiing with her son, and equestrian sports with her daughter.
Dr. Michelle Helms is a board certified general surgeon who joined Cooley Dickinson General Surgical Care in 2016. She was born and raised in suburban New Jersey, where her parents still reside. Ever since childhood, she has been very close with her older sister who is now a third grade teacher. The two spent endless hours riding their bikes, swimming, and doing crafts. Dr. Helms talked about becoming a doctor in kindergarten and never took her eyes off her goal. She graduated from Lehigh University after only three years to follow her wanderlust abroad to West Africa and Europe for a year before medical school at Rutgers University, New Jersey Medical School. She completed a general surgery internship at Robert Wood Johnson University Hospital in New Brunswick, New Jersey, and a general surgery residency at Morristown Medical Center in Morristown, New Jersey. After training, Michelle practiced in a rural community in southern Virginia prior to relocating to Western Mass. She has been recognized with a Gold Foundation Humanism in Medicine Award and with various teaching awards. She loves hiking, mountain biking, reading, and cooking. She cherishes her two dogs, a French Bulldog and a Great Dane.
Dr. Ursula McMillian is a graduate of the University of Connecticut School of Medicine in Storrs, Conn., where she also earned her Bachelor's Degree in Physiology and Neurobiology. Her General Surgical Internship was at the University of Massachusetts in Worcester, Mass., and she served her Residency at Yale New Haven Hospital of Saint Raphael in New Haven, Conn. She earned a Minimally Invasive & Bariatric Surgical Fellowship at Danbury Hospital in Danbury, Conn., and is a Credentialed Robotic Surgeon (DaVinci) after completing a program at Mercy Medical Center in Springfield, Mass., where she worked as a surgeon from 2013-2018, while also credentialed at Noble Medical Center. She comes to Cooley Dickinson most directly from Holyoke Medical Center, where she performed surgery for the last three years.
In addition to laparoscopic and general surgery, Dr. McMillian specializes in bariatric surgery, including gastric bypass and foregut surgery. Her self-described history includes her own personal struggles with weight loss and testimonials as not only a surgeon but as a patient who underwent weight loss surgery herself a decade ago, with lasting success. She is also a vocal advocate of cardiovascular exercise and low-carbohydrate diets that have been proven to help maintain weight loss in addition to those practices' general health benefits.
Casey Fowler, APRN, is an experienced acute care nurse practitioner and an instrumental member of our surgical team. Born and raised in Northampton, she is a graduate of Northampton High School. She joined the Navy where she served as a Navy Corpsman in San Diego and on the USS Holland (AS-32) in Guam and Japan, then returned home to attend nursing school. After graduating from Our Lady of the Elms College with a bachelor's degree in Nursing, Casey earned a master's degree from the Acute Care Nurse Practitioner program at UMass-Worcester's Graduate School of Nursing. In addition to providing expert post-op care for general surgery patients, Casey performs a range of dermatological procedures, including the removal of cysts, lipomas, and skin/subcutaneous lesions. She also specializes in the treatment of abscesses and cellulitis.
Casey is the mother of two very active boys who keep her busy with their many sports teams. She has inspired her oldest to pursue a career in nursing. She has carried her natural athleticism from her childhood years as a gymnast and swimmer into adulthood as an aerobics instructor. She teaches a class to Cooley staff at 22 Atwood Drive, inspiring others to enjoy fitness with the help of her '80s playlist. In her free time, Casey can be found in the garden with her Puggle dog nearby.
INSIDE STORY: Appendix Removal

more

View a laparoscopic appendectomy in the latest installment of our INSIDE STORY HD surgery video series. Whether or not you are personally having the surgery, watching the procedure (from inside the abdominal cavity) is absolutely fascinating.

Learn More

When the Surgeon Becomes the Patient: Cooley Physician Knows Both Sides of the Experience

more

Trust in her team: This spring, Cooley Dickinson General Surgeon Michelle Helms became a patient of her own practice.

Learn More