Scheduled for Surgery? Here's What You Can Expect
During the COVID-19 pandemic, Cooley Dickinson Hospital stopped elective surgeries. Now that the Kittredge Surgery Center has opened back up for elective procedures, here are some things you should know in case you or a loved one is planning for surgery:
---
  SCREEN
• Patients gets screened for COVID between 24 and 72 hours before their scheduled surgery
• Surgery staff call the patients with the results of their test the day before their surgery.
• We use contactless thermometers to take temperatures before surgery.
• All staff are required to self-screen and monitor for symptoms prior to starting their shift.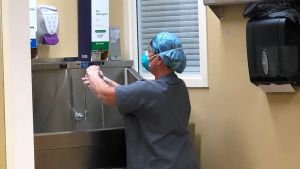 CLEAN
• OR staff follow all CDC guidelines for cleaning high touch surfaces throughout the ORs.
• We require frequent hand-cleaning, and have added hand sanitizer stations so patients and staff can clean their hand easily and more often.
PROTECT
• Small teams of employees provide of care.
• Precaution/negative pressure rooms are for anyone who tests positive for COVID or who is suspected of having coronavirus.
• No visitors are allowed at this time. We keep in touch with loved ones via cell phone.
Read more about How to Get Care here: https://www.cooleydickinson.org/home/how-to-get-care/
Read more about our safe care commitment here: https://www.cooleydickinson.org/h…/our-safe-care-commitment/.
If you have been putting off needed a surgery, be sure to discuss your options with your medical provider.