Pediatric Surgery at Cooley Dickinson Hospital
Talking about or preparing for a procedure can be stressful and induce anxiety in children, adolescents, and parents. With that in mind, we strive to make your surgical experience at Cooley Dickinson Hospital a family-friendly and positive experience. We provide a friendly, warm and comforting environment, keeping children with their family as much as possible. We encourage a parent to come with their child into the OR until they fall asleep and be there when they wake in Recovery. We invite you to call our facility with questions or concerns before a procedure.
Tips for families: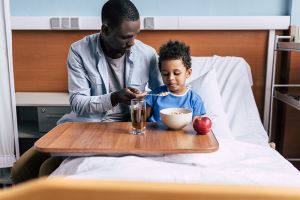 Bring your child's favorite stuffed animal, books, or device for comfort.
Try to eat a healthy breakfast and stay hydrated outside of your child's sight and smell.
Speak with friends or family for support throughout the process.
About us:
Cooley Dickinson Hospital is a special facility with a strong community commitment, an up-to-date Surgical facility, and highly trained practitioners. What that means is exceptional patient-centered care in a highly skilled and nurturing environment. We're proud to have experts in Pediatric care available to you and your family who can provide comprehensive Pediatric Surgical Services in a fully modern Operative Suite.
Surgeries we perform include but are not limited to:
ENT procedures including adenoidectomy, tonsillectomy, myringotomy tubes
General Surgery procedures like appendectomy
Orthopedic surgeries
GI Procedures like endoscopy and colonoscopy
Dental Procedures
---
Preoperative Instructions:
Please Note:  These instructions are for your safety. Failure to comply may result in delay or cancellation of your surgery.
DO NOT EAT or DRINK after midnight before your surgery/procedure.
NO candy, cough drops, breath mints, or chewing gum the day of your surgery/procedure.
You may brush your teeth, but do not swallow water, mouthwash, toothpaste, etc.
If you take any medications, supplements or herbal remedies, please refer to the instructions you received from your health care provider about whether to continue taking them.