The Breast Center at Cooley Dickinson Hospital
Welcome to the Breast Center at Cooley Dickinson Hospital, a significant advance in women's health for the Pioneer Valley. Cooley Dickinson's radiologists, surgeons, nurses, mammography technologists, facilities and environmental personnel, development staff and generous donors collaborated to design, build, fund, and execute the clinical operations of this unique, indispensable center for breast care.
Comprehensive, Convenient Breast Care
The new Breast Center brings together advanced diagnostic capabilities with our skilled, compassionate staff and physicians into an easy to navigate, patient-centered environment. Here, in one location, our patients receive consistent, timely, and high-quality health care for all facets of breast care and breast cancer screening, diagnosis, and treatment.
The Breast Center was conceived as a way to address the needs of our community in a setting that will benefit the most people.
The Center takes a multidisciplinary approach to breast health, with comprehensive services including:
Breast exams
Breast screening
Diagnostic breast imaging
Biopsy and wire localization
Ultrasound
Bone density

The Most Advanced Imaging Technologies
Early detection through mammography screening is the best way to save lives. Optimizing state-of-the-art technologies, the new Center focuses on rapid evaluation and diagnosis of those with abnormal exams and breast masses.
The Breast Center offers leading-edge technologies to improve early detection and treatment of breast cancer. Breast tomosynthesis is the latest breakthrough in mammography and was pioneered at Massachusetts General Hospital. Also called 3D mammography, it provides a clearer, more accurate view of the breast and enables doctors to pinpoint the size, shape and location of abnormalities more effectively. In fact, 3D mammography finds smaller cancers when they are more curable, which can give women more choices for therapy. A complement to standard mammograms, 3D mammography can result in fewer callbacks, better detection, and greater peace of mind.
---
Benefits of the Breast Center
Low-Dose Mammography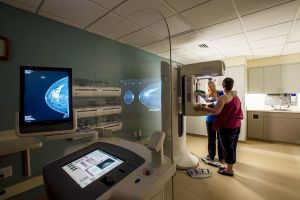 Greater accuracy, lower X-ray dose, and less discomfort for patients are just several reasons why the Breast Center uses 3D mammography with C-View TM software. According to Hologic.com, C-View software progresses early breast cancer detection further by generating a 2D image directly from the tomosynthesis data, lowering patient radiation dose and compression time, with the added benefit of greater patient comfort.
Centered Around You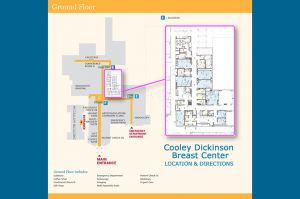 The Center has increased the space devoted to Cooley Dickinson's breast care services by nearly 2.5 times. This consolidation into a single, larger space will result in numerous benefits including:
Bright, welcoming space and dedicated entrance
Spacious exam rooms
Designated changing rooms for women and men, separated for greater privacy
Patient-friendly environment, designed to help reduce fear and anxiety and to encourage more patients to seek out these important, preventive services
At Cooley Dickinson, breast cancer makes up 28 percent of all cancers diagnosed and/or treated, and 49 percent of women and 2 percent of men treated for cancer at Cooley Dickinson are treated for breast cancer.
Approximately 1 in 8 women will be diagnosed with breast cancer at some time in their lives. The United States loses more than 40,000 women a year to breast cancer, and nearly a quarter million cases were diagnosed in 2016 alone. Though typically occurring at a much lower rate, men, too can be diagnosed with breast cancer.
In Massachusetts, we have a rate of breast cancer that is 5% higher than the national average, and is consistently within the top ten states for incidence of breast cancer.
Hampshire county has one of the highest incidences of breast cancer in the state.
Breast Cancer Awareness Month: Paying it Forward

more

Breast cancer survivor Lynne Parsons, Chair of the Breast Center Fundraising Committee, and Cooley Dickinson Chief Development Officer Diane Dukette talk about how the new Breast Center will consolidate care and improve patient experience thanks to upgraded facilities.

Learn More

Pacilio on Prevention: Breast Cancer Screening Saves Lives

more

Dr. Louis Pacilio, lead mammography radiologist at Cooley Dickinson Hospital, stresses the importance of screening as our best current tool for battling breast cancer.

Learn More